'Kubo And The Two Strings' Trailer: LAIKA's Epic Adventure Looks Stunning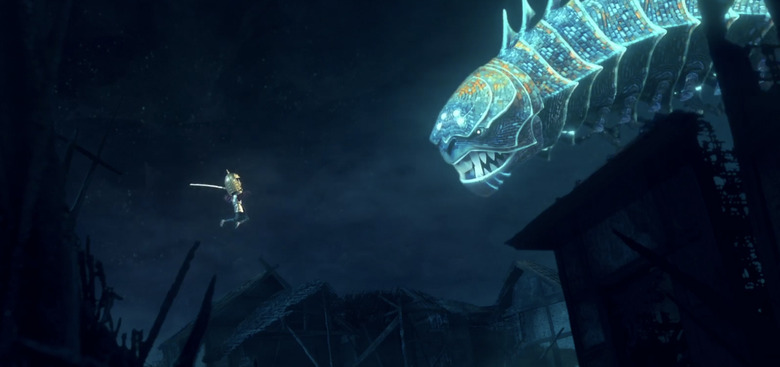 The sheer beauty and wonder of stop-motion animation from LAIKA will never cease to amaze me. A new trailer for their latest project, Kubo and the Two Strings, has just arrived, and as the animation studio's first epic, the visual are truly stunning. The intricacy of the animation makes you wonder why LAIKA takes the time do make these movies in stop-motion animated, but if you've seen any of their movies, you know that it gives it a certain homemade quality that makes it that much more special.
Watch the new Kubo and the Two Strings trailer after the jump.
With the Japanese setting and stop-motion style, there's definitely a bit of anime influence here as the young boy Kubo must set out to save his family by learning about the rich history of his father, a fallen samurai warrior, in order to stop the mystical forces he's accidentally summoned by telling mythical tales with magic.
As someone who has enjoyed Coraline, ParaNorman and The Boxtrolls, I think this looks like another winner for LAIKA. However, I'm not entirely sure that I'm on board with some of the voice cast decisions. The voice of Matthew McConaughey for Beetle and Charlize Theron for Monkey feel a little out of place to me, but maybe it'll just take some getting used to. But Rooney Mara as those creepy witch sisters is great casting. Plus we'll get to see (or at least hear) Ralph Fiennes in villain mode again as the Moon King.
LAIKA's movies are remarkable achievements. Even just a single shot is worth praise. These are exactly the kind of animated movies that need audiences to see them in theaters so LAIKA never stops making them.  If you want to see more, you can watch the previous trailer right here.
An epic action-adventure set in a fantastical Japan from acclaimed animation studio LAIKA. Clever, kindhearted Kubo (voiced by Art Parkinson of "Game of Thrones") ekes out a humble living, telling stories to the people of his seaside town including Hosato (George Takei), Akihiro (Cary-Hiroyuki Tagawa), and Kameyo (Academy Award nominee Brenda Vaccaro). But his relatively quiet existence is shattered when he accidentally summons a spirit from his past which storms down from the heavens to enforce an age-old vendetta. Now on the run, Kubo joins forces with Monkey (Academy Award winner Charlize Theron) and Beetle (Academy Award winner Matthew McConaughey), and sets out on a thrilling quest to save his family and solve the mystery of his fallen father, the greatest samurai warrior the world has ever known. With the help of his shamisen – a magical musical instrument – Kubo must battle gods and monsters, including the vengeful Moon King (Academy Award nominee Ralph Fiennes) and the evil twin Sisters (Academy Award nominee Rooney Mara), to unlock the secret of his legacy, reunite his family, and fulfill his heroic destiny.
Kubo and the Two Strings opens in theaters August 19.