The 'Preacher' Cast Is Ready To Drink Hard And Defy God In These New Images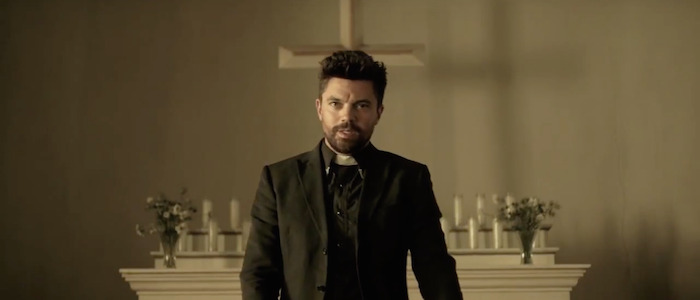 Preacher the television series will not be Preacher the comic. The trailer showed us that. Reactions from early screenings of the pilot have told us that. Even the casting of certain characters have made that clear. And that's fine. Garth Ennis and Steve Dillon's infamous Vertigo comic series was never going to make the transition to the small screen intact and it probably shouldn't. What works in the pages of comic book, what's palatable in the pages of a comic book, doesn't always translate to something that's fun to actually watch.
But man, as a fan of the original series (occasionally embarrassing warts and all), it's a genuine rush to see the trio of main characters brought to life. AMC has released new images of the three leads and they look just about perfect. We'll see how their performances work out, but things are looking good.
I'm just going to go ahead and assume that you don't know anything about the comic as I introduce you to each of these characters. Naturally, I won't delve into too many spoilers.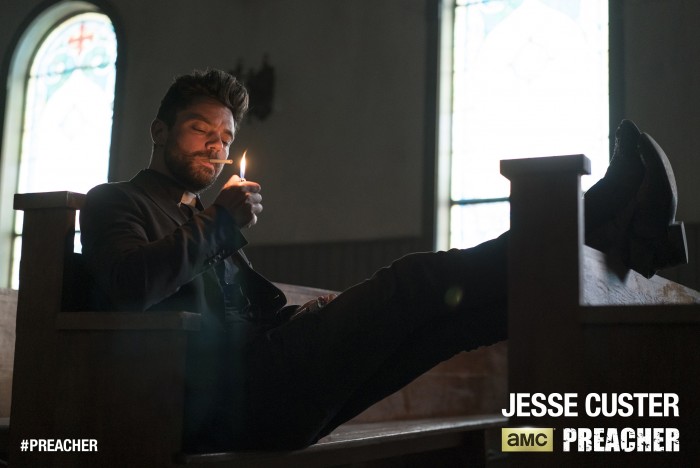 First up is Jesse Custer (Dominic Cooper), a preacher living in a small Texas town who has lost his faith...if he ever had it at all. Jesse has lived a tough life and it has made him more than a little mean and, more often than not, more than a little drunk. When a supernatural entity possesses him and grants him the ability to speak with "the Word of God" (allowing him to command others to obey whatever he says), he embarks on a quest to...well, the show will answer that question. Let's just say it's super-blasphemous and will upset a certain percentage of people.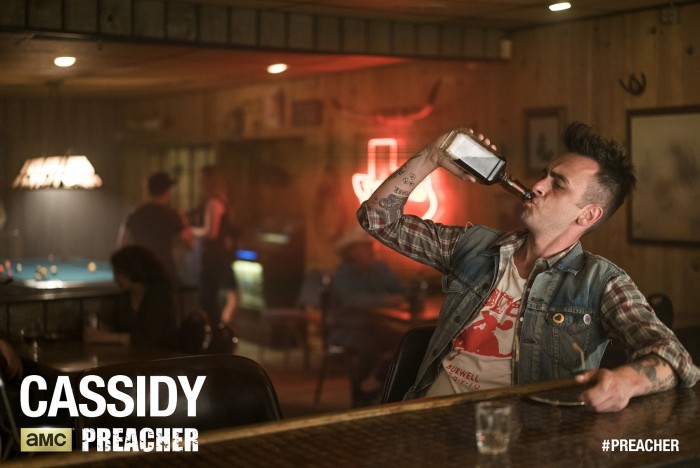 Next up is Cassidy (Joseph Gilgun), a hard-living, hard-partying Irish guy with a taste for adventure and a thirst for blood. Literally. Because he's a vampire. Naturally, he and Jesse end up becoming the best of buds and set out on a globetrotting adventure together. At least that's what they do in the comics – the show seems to be taking things in a slightly different direction, which makes me wonder how show Cassidy will differ from his comic book counterpart.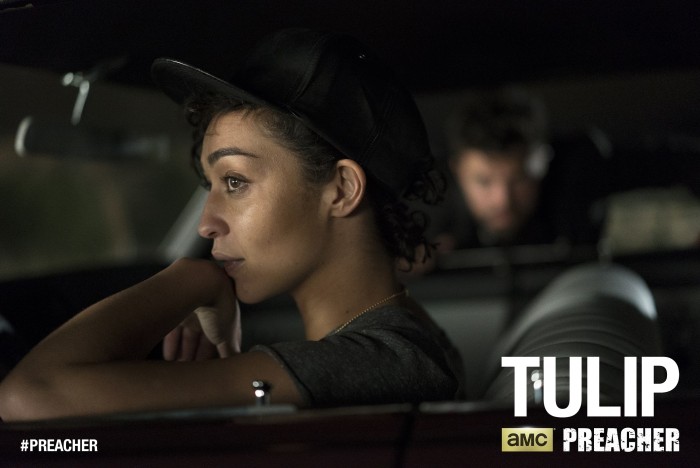 And finally, we arrive at Tulip (Ruth Negga), Jesse's old girlfriend who comes barreling back into his life just as his existence is being completely rewritten. While her old flame settled into small town living and church life, she continued the life of crime they began together. And she's very, very good at it. Sure, Jesse has supernatural powers, but she knows how to survive a gun battle and wield heavy artillery.
Here is the official synopsis for Preacher, which, like the trailer, carefully dodges around what this series is really about:
Preacher is a supernatural, twisted and darkly comedic drama that follows a West Texas preacher named Jesse Custer, who is inhabited by a mysterious entity that causes him to develop a highly unusual power.  Jesse, his badass ex-girlfriend Tulip and an Irish vagabond named Cassidy come together and when they do, they are thrust into a crazy world populated by a cast of characters from Heaven, Hell and everywhere in between.
Preacher's pilot episode will play at the SXSW Film Festival in a few days. AMC has yet to set a premiere date for the series proper, but it's expected to arrive within the next few months.