'Where's Waldo' Movie Will Task Seth Rogen And Evan Goldberg With Hiding In Detailed Crowd Scenes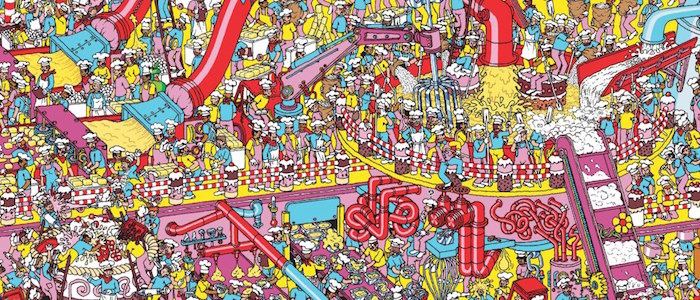 There are some filmmakers who deserve the benefit of the doubt no matter what absurd projects they add to their plates. Seth Rogen and Evan Goldberg are on that list. Here are two guys with strong instincts for comedy and storytelling, whose misfires at least have the benefit of being interesting rather than bad. They continuously surround themselves with talented people and aren't afraid to push themselves into fresh new territory. And yes, This Is the End is pretty much a masterpiece.
So I grit my teeth and keep this in mind when I read about this duo attaching themselves to the long-gestating Where's Waldo movie, which just sounds like a terrible idea. A literally plotless children's book series does not seem like a strong foundation for a feature film, but hey, I trust these guys.
This story, which was initially reported by The Tracking Board, has been confirmed by The Hollywood Reporter. According to THR, Rogen and Goldberg have been recruited by MGM to produce the film through their Point Grey production company, which has been the driving force behind films like Neighbors, The Interview, and The Night Before. The will not write the film (which makes sense when you consider their jam-packed schedule), but have tasked The Night Before screenwriters Kyle Hunter and Ariel Shaffir with the job.
For those unfamiliar with the source material here, Where's Waldo (or Where's Wally in U.K. or Where's Charlie in France or Where's Walter in Germany and so on) was a series of children's books created by Martin Handford. Each book was comprised entirely of large, extremely detailed double-page spreads depicting a scene with countless characters and hidden somewhere in it all was the title character, a lanky fellow in a red and white striped shirt. Readers (or rather, lookers) had to find Waldo. And once they found him, they could search the illustration for all of his reoccurring friends and rivals. Rinse and repeat.
Since Handford's various illustrations took Waldo across the world and throughout time, previous iterations of this film have dealt heavily with time travel, following Waldo as he is displaced from his present and must travel through the past and future to get home. However, MGM first acquired the rights to this series nearly five years ago and nothing has come of it. Writers have been hired over the years, but everything has reached a dead end.
Are Goldberg and Rogen the guys to make this happen? It's a tough nut to crack, as the original books were something you cozied up with on a lazy day and got lost in. There's no narrative here, just the quiet thrill of the search. At the same time, the lack of solid direction means these two possibly have the freedom to do whatever they want with this character and his world, which isn't a bad position.
In any case, the Where's Waldo cartoon series from the early '90s offers evidence that this thing can be adapted to the screen. Not adapted well, mind you, but it's certainly possible. Just add a wizard and loose hook about traveling through time and space to solve mysteries.