'Teenage Mutant Ninja Turtles' '90s Animated Series Crossing Over To Nickelodeon's 'TMNT' Series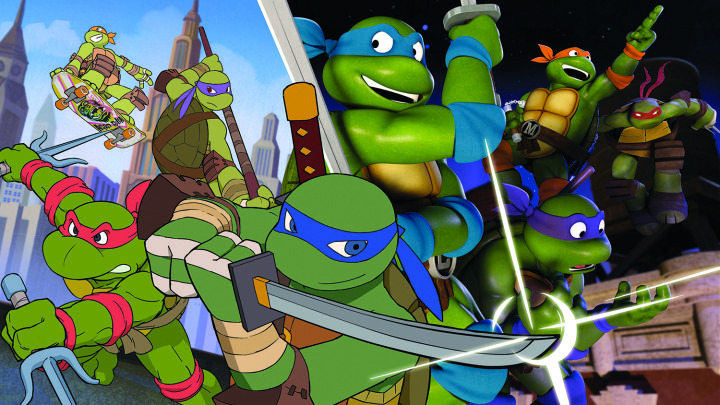 If you're a child of the '80s and '90s, you undoubtedly know the theme song to the animated Teenage Mutant Ninja Turtles series. It was a staple of Saturday morning cartoons, and for some fans, it's the pinnacle of heroes in a half-shell entertainment. There's been a lot of nostalgia for the old animated series on shirts, lunch boxes, hats and even new pricey action figures. And now they're coming back to television, but in a slightly different form.
Nickelodeon's TMNT animated series will be getting a visit from the retro animated Teenage Mutant Ninja Turtles in a new episode that crosses dimensions. What's really cool is that the episode will also bring back the the original voice actors from the old series. Get more details on the Teenage Mutant Ninja Turtles crossover after the jump.
The episode, called "Trans-Dimensional Turtles", will first see Leonardo (Seth Green), Raphael (Sean Astin), Donatello (Rob Paulsen) and Michaelangelo (Greg Cipes) transported to another dimension where they meet their retro counterparts in the old animated world. The turtles will again be voiced by Cam Clarke, Rob Paulsen (yes, he's in both shows), Barry Gordon and Townsend Coleman as Leonardo, Raphael, Donatello, and Michelangelo, respectively.
IGN adds that Pat Fraley, the original voice of Krang from the old Teenage Mutant Ninja Turtles series, will also be back as the brainy villain, who will team up with the current TMNT villain Kraang Subprime for some kind of dastardly plan. Here are the old voice actors together again in the recording studio (minus Paulsen, who was sick on this day):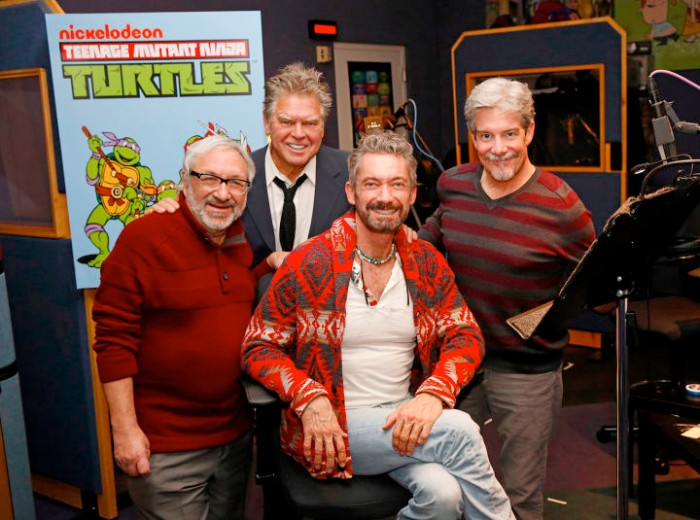 After the new turtles meet the old in their retro animated environment, they'll come back to the computer-animated present day, where the old turtles will be seen in 3D. And you can get a glimpse of what that will be like right here:
Apparently the episode will also go into another animated world that will look like Kevin Eastman's original Teenage Mutant Ninja Turtles comic book series. This sounds cool enough to set the DVR to record this episode when it airs on Sunday, March 27th at 11am ET/PT on Nickelodeon. It certainly can't be worse than the most recent Teenage Mutant Ninja Turtles movie, or the much more absurd looking sequel, Teenage Mutant Ninja Turtles: Out of the Shadows, coming this summer.