The 2016 MTV Movie Awards Nominations Honor Unknown Little Gems Like 'Star Wars' And 'Jurassic World'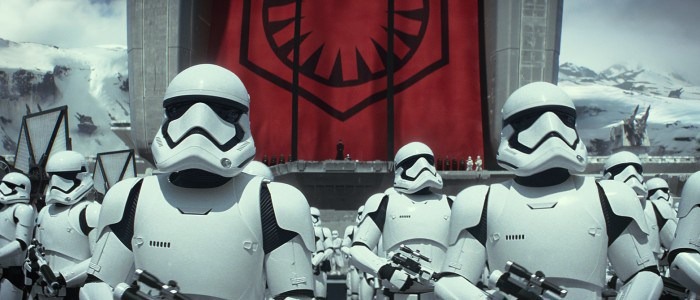 It's easy to make fun of the MTV Movie Awards. I know this because I did so in the headline of this very article. And yet, when you really break it down, they're no more ridiculous than the Golden Globes – if the 93 members of the Hollywood Foreign Press Association can come together to nominate a bunch of movies for statuettes, then why not allow the people running MTV to hand out buckets of golden popcorn to people they like?
So I hold no strong opinions on the 2016 MTV Movie Awards nominations. Are these the movies that I would have nominated for awards? Nah. But these most certainly are the movies MTV executives and producers think their audience wants to see nominated. In other words, welcome to an awards ceremony dominated by Star Wars: The Force Awakens, Deadpool, and Avengers: Age of Ultron.
The Force Awakens led the pack with eleven nominations, appearing in traditional categories like Movie of the Year and Best Female Performance as well as MTV's sillier categories, like Best Fight and Best Action Performance. Most of the other nominees didn't even come close to those numbers, with Avengers: Age of Ultron snagging six nods, while Jurassic World and Straight Outta Compton grabbed three each. However, the MTV Movie Awards did prove themselves superior to the Oscars in at least one way by giving two nominations to Creed.
But the other big nominee this year is Deadpool. A 2016 release. Because the MTV Movie Awards don't play by the rules followed by every single other awards show on the planet. Anyway, it has eight nominations.
The final winners will be determined by fan votes, so you can make your opinion known right over here.  The actual ceremony, which will be hosted by Dwayne Johnson and Kevin Hart, will air on April 8, 2016 at 8:00 P.M. E.T. The full list of nominees can be found below.
MOVIE OF THE YEAR
· Avengers: Age of Ultron (Walt Disney Studios Motion Pictures)
· Creed (Warner Bros.)
· Deadpool (20th Century Fox)
· Jurassic World (Universal Pictures)
· Star Wars: The Force Awakens (Walt Disney Studios Motion Pictures)
· Straight Outta Compton (Universal Pictures)
TRUE STORY
· Concussion (Columbia Pictures)
· Joy (20th Century Fox)
· Steve Jobs (Universal Pictures)
· Straight Outta Compton (Universal Pictures)
· The Big Short (Paramount Pictures)
· The Revenant (20th Century Fox)
DOCUMENTARY
· Amy (A24)
· Cartel Land (The Orchard)
· He Named Me Malala (Fox Searchlight Pictures)
· The Hunting Ground (RADiUS-TWC)
· The Wolfpack (Magnolia Pictures)
· What Happened, Miss Simone? (Netflix)
BEST FEMALE PERFORMANCE
· Alicia Vikander – Ex Machina (A24)
· Anna Kendrick – Pitch Perfect 2 (Universal Pictures)
· Charlize Theron – Mad Max: Fury Road (Warner Bros.)
· Daisy Ridley – Star Wars: The Force Awakens (Walt Disney Studios Motion Pictures)
· Jennifer Lawrence – Joy (20th Century Fox)
· Morena Baccarin – Deadpool (20th Century Fox)
BEST MALE PERFORMANCE
· Chris Pratt – Jurassic World (Universal Pictures)
· Leonardo DiCaprio – The Revenant (20th Century Fox)
· Matt Damon – The Martian (20th Century Fox)
· Michael B. Jordan – Creed (Warner Bros.)
· Ryan Reynolds – Deadpool (20th Century Fox)
· Will Smith – Concussion (Columbia Pictures)
BREAKTHROUGH PERFORMANCE
· Amy Schumer – Trainwreck (Universal Pictures)
· Brie Larson – Room (A24)
· Daisy Ridley – Star Wars: The Force Awakens (Walt Disney Studios Motion Pictures)
· Dakota Johnson – Fifty Shades of Grey (Universal Pictures)
· John Boyega – Star Wars: The Force Awakens (Walt Disney Studios Motion Pictures)
· O'Shea Jackson Jr. – Straight Outta Compton (Universal Pictures)
BEST COMEDIC PERFORMANCE
· Amy Schumer – Trainwreck (Universal Pictures)
· Kevin Hart – Ride Along 2 (Universal Pictures)
· Melissa McCarthy – Spy (20th Century Fox)
· Rebel Wilson – Pitch Perfect 2 (Universal Pictures)
· Ryan Reynolds – Deadpool (20th Century Fox)
· Will Ferrell – Get Hard (Warner Bros.)
BEST ACTION PERFORMANCE
· Chris Pratt – Jurassic World (Universal Pictures)
· Dwayne Johnson – San Andreas (Warner Bros.)
· Jennifer Lawrence – The Hunger Games: Mockingjay – Part 2 (Lionsgate)
· John Boyega – Star Wars: The Force Awakens (Walt Disney Studios Motion Pictures)
· Ryan Reynolds – Deadpool (20th Century Fox)
· Vin Diesel – Furious 7 (Universal Pictures)
BEST HERO
· Charlize Theron – Mad Max: Fury Road (Warner Bros.)
· Chris Evans – Avengers: Age of Ultron (Walt Disney Studios Motion Pictures)
· Daisy Ridley – Star Wars: The Force Awakens (Walt Disney Studios Motion Pictures)
· Dwayne Johnson – San Andreas (Warner Bros.)
· Jennifer Lawrence – The Hunger Games: Mockingjay – Part 2 (Lionsgate)
· Paul Rudd – Ant-Man (Walt Disney Studios Motion Pictures)
BEST VILLAIN
· Adam Driver – Star Wars: The Force Awakens (Walt Disney Studios Motion Pictures)
· Ed Skrein – Deadpool (20th Century Fox)
· Hugh Keays-Byrne – Mad Max: Fury Road (Warner Bros.)
· James Spader – Avengers: Age of Ultron (Walt Disney Studios Motion Pictures)
· Samuel L. Jackson – Kingsman: The Secret Service (20th Century Fox)
· Tom Hardy – The Revenant (20th Century Fox)
BEST VIRTUAL PERFORMANCE
· Amy Poehler – Inside Out (Walt Disney Studios Motion Pictures)
· Andy Serkis – Star Wars: The Force Awakens (Walt Disney Studios Motion Pictures)
· Jack Black – Kung Fu Panda 3 (20th Century Fox)
· James Spader – Avengers: Age of Ultron (Walt Disney Studios Motion Pictures)
· Lupita Nyong'o – Star Wars: The Force Awakens (Walt Disney Studios Motion Pictures)
· Seth MacFarlane – Ted 2 (Universal Pictures)
ENSEMBLE CAST
· Avengers: Age of Ultron (Walt Disney Studios Motion Pictures)
· Furious 7 (Universal Pictures)
· Pitch Perfect 2 (Universal Pictures)
· Star Wars: The Force Awakens (Walt Disney Studios Motion Pictures)
· The Hunger Games: Mockingjay – Part 2 (Lionsgate)
· Trainwreck (Universal Pictures)
BEST KISS
· Amy Schumer & Bill Hader – Trainwreck (Universal Pictures)
· Dakota Johnson & Jamie Dornan – Fifty Shades of Grey (Universal Pictures)
· Leslie Mann & Chris Hemsworth – Vacation (Warner Bros.)
· Margot Robbie & Will Smith – Focus (Warner Bros.)
· Morena Baccarin & Ryan Reynolds – Deadpool (20th Century Fox)
· Rebel Wilson & Adam DeVine – Pitch Perfect 2 (Universal Pictures)
BEST FIGHT
· Deadpool (Ryan Reynolds) vs. Ajax (Ed Skrein) – Deadpool (20th Century Fox)
· Hugh Glass (Leonardo DiCaprio) vs. The Bear – The Revenant (20th Century Fox)
· Imperator Furiosa (Charlize Theron) vs. Max Rockatansky (Tom Hardy) – Mad Max: Fury Road (Warner Bros.)
· Iron Man (Robert Downey Jr.) vs. Hulk (Mark Ruffalo) – Avengers: Age of Ultron (Walt Disney Studios Motion Pictures)
· Rey (Daisy Ridley) vs. Kylo Ren (Adam Driver) – Star Wars: The Force Awakens (Walt Disney Studios Motion Pictures)
· Susan Cooper (Melissa McCarthy) vs. Lia (Nargis Fakhri) – Spy (20th Century Fox)