Jeff Nichols Explains Why He's Not Directing 'Aquaman'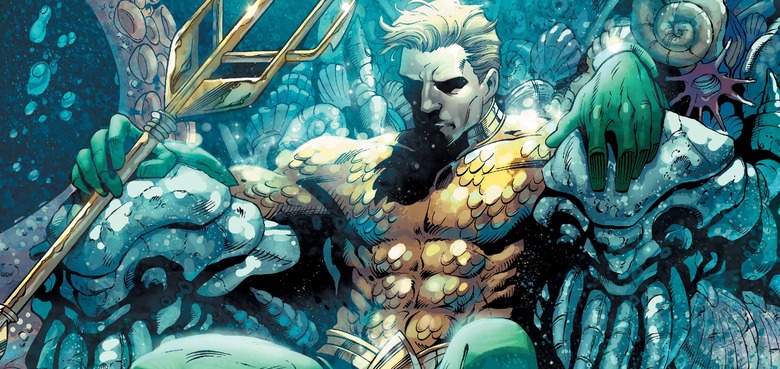 Jeff Nichols makes his first foray into sci-fi with this month's Midnight Special, before returning to more grounded drama with Loving. But you may recall a brief period when it looked like the director might go the superhero movie route. Way back during the Sony hack, word got out that Nichols was in talks with Warner Bros. to direct Aquaman starring Jason Momoa.
Ultimately, the job went to Furious 7 director James Wan — a fine pick, if a less surprising one. Still, Nichols was an intriguing enough choice that we couldn't help wondering why his Aquaman didn't pan out. Now, he's finally gone on the record to explain why. 
During a junket interview for Midnight Special, ScreenCrush got the inside story on the Jeff Nichols Aquaman movie that never was. Basically, Nichols just wasn't comfortable diving into the already-established DC Extended Universe:
But, you now [sighs] the trick with 'Midnight Special' is even though it was made at the studio [Warner Bros.], they gave me a lot of control over the process. And I don't just mean control over final cut, but it felt like we were making one of my movies. I had my team. I had my family there. My crew. We made the movie we all wanted to make. With the DC universe, so many parts of it had been activated and so many decisions had already been made that it felt more and more — and Warner Bros. agreed — that it was me trying to jump on a moving train. That's not so much what I'm good at. I'm more of a ground up kinda guy.
Nichols' comments are nothing we haven't heard before. Ava DuVernay offered a similar explanation when she turned down Black Panther, for example. Closer to home, Michelle MacLaren dropped out of Wonder Woman over "creative differences." Even some directors who've stuck around have found it difficult to handle the demands of a franchise film — Joss Whedon, for example, has been pretty vocal about the many compromises it took to get Avengers: Age of Ultron made.
True, some directors have managed to put their stamp on these films. Iron Man 3 feels very much like a Shane Black movie, and James Gunn seems perfectly happy with the way Guardians of the Galaxy turned out. But there are real constraints for filmmakers working within these gigantic established franchises, and it's understandable if not everyone is interested in working within those limits.
All that said, Nichols digs the "connected universe" of the DCEU — he just doesn't want to direct a film within it. He admitted he's "not really" interested in taking on a DC character. "[I]t's all a connected universe. And it should be," he said. "I was a huge comic book nerd, so I know all these characters and they all need to be beautifully webbed together. I was just far enough on the outside that I could develop things in a vacuum all day long but it wasn't going to line up with everything they had planned."