J.K. Rowling To Release 'The History Of Magic In North America' To Lay The Groundwork For 'Fantastic Beasts'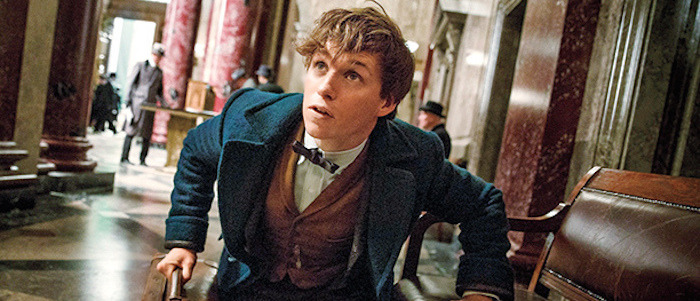 The basic storytelling in J.K. Rowling's Harry Potter novels is good stuff, a fairly typical "hero's journey" tale told with wit and verve. However, Mr. Potter is not the main reason these books (and their film adaptations) are so incredibly popular – readers and viewers all over the world fell in love with the world he inhabits. Rowling's wizarding world is so rich with detail and so impeccably imagined that you feel like you can somehow pay it a visit yourself. It feels real in a way that so many fantasy worlds do not.
With the upcoming Fantastic Beasts and Where to Find Them looking to shine a light on a very different time and place in Rowling's wizarding world, a new series of stories paving the way for this film have been announced. "The History of Magic in North America" will bring readers across the pond to take a deep dive into the American magical world, effectively setting the stage for the 1920s New York City seen in the new movie.
This series will consist of four stories and each of them will be available to read on Pottermore (the official Harry Potter site whose official Sorting Hat quiz will deflate your dreams by placing you in Hufflepuff) as they are posted. Entertainment Weekly announced this series, revealing that the stories will tackle the following subjects:
The U.S. Hogwarts, Ilvermorny
Skin-walkers, a Native American legend
The Salem witch trials, a formative event for the country's national magical identity
Our Ministry of Magic, the Magical Congress of the United States of America
A few months ago, Rowling published a series of stories detailing wizarding schools around the world, including schools in South America, Africa, and Japan. Those stories, which were composed as non-fiction essays, were delightful and these new tales will surely follow suit. The fact that Rowling appears to be directly tying her fictional history to actual, real-life American history is fascinating – I especially can't wait to see her address Native American mysticism and the Salem Witch Trials, the latter of which may explain why there appears to be a deeper division between magic folks and Muggles in America than there was in Harry Potter's England.
Entertainment Weekly also revealed this trailer for the project, because Rowling is the only author in the world who can get away with a full-fledged animated preview for four short stories:
The first story is set to arrive on Pottermore tomorrow at 9:00 A.M. ET. Meanwhile, we can all look forward to Fantastic Beasts and Where to Find Them, which opens on November 18, 2016. And some of you can look forward to Harry Potter and the Cursed Child, which is hitting the London stage soon enough.