'Rick & Morty' Season 3 Will Arrive Later This Year And With More Episodes Than Before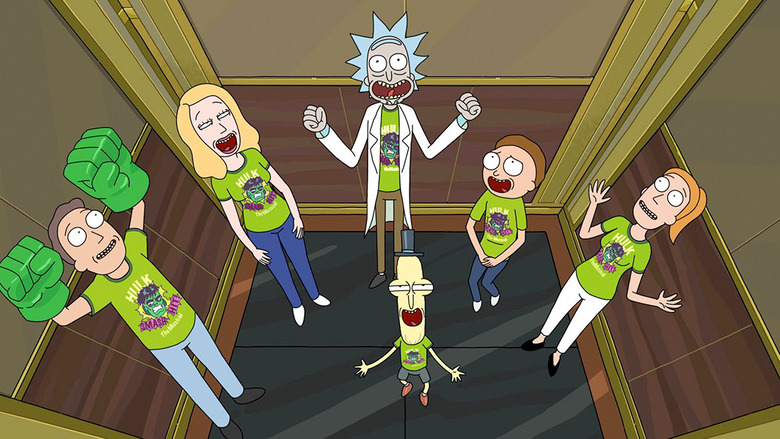 When the second season of Rick and Morty came to an end last October, the longtime character Mr. Poopy Butthole said that we would see what happens to everyone's favorite drunk scientist grandfather and perpetually nervous grandson in about a year and a half. That was in the beginning of October, so we've been operating under the assumption that the show wouldn't return until March of 2017. However, according to Dan Harmon, it sounds like Rick and Morty season 3 will arrive before the end of 2016.
While appearing at Magic City Comic-Con in Miami, Florida back in January (via io9), Harmon was asked about when we can expect the third season of Rick and Morty, and the series co-creator said:
"I think season three, I believe we're targeting around the end of this year. But, you guys realize that we're at the beginning of this year."
So we'll be waiting about 10 more months before we get to see any new Rick and Morty, but at least we get it before the end of the year. That will make for quite a fantastic Christmas present. And that's not all the good news either. After a first season that had 11 episodes and a second season that only had 10, Harmon revealed that the third season will have 14 episodes. Woo! Tiny Rick!
If you want to listen to the entire panel for Rick and Morty, you can check it out right here. The talk about the third season begins around the 10:20 mark, but it's not the only good stuff during the panel. For example, the end of the second season was actually supposed to happen over two episodes instead of ending with such a big cliffhanger. But maybe the ending will make for a more exciting beginning to the third season. Either way, I can't wait to see more of what might be the best animated series for adults on television.
If you missed the little credits teaser after the second season finale last year, here it is:
Episodes of Rick and Morty are available to stream (provided your cable company has a deal with Cartoon Network) on AdultSwim.com.
Rick and Morty is Adult Swim's most scientifically accurate animated comedy. Created by Justin Roiland and Dan Harmon, it catalogues the bizarre misadventures of a bored scientific genius/drunkard and his socially awkward grandson, Morty. Their exploits tend to have unintended consequences for Morty's dysfunctional family, especially his unfailingly mediocre father, Jerry.
We'll let you know when we get a more solid release date for the third season of Rick and Morty.