'Brooklyn' Deleted Scenes: More Charm From The Lovely Best Picture Nominee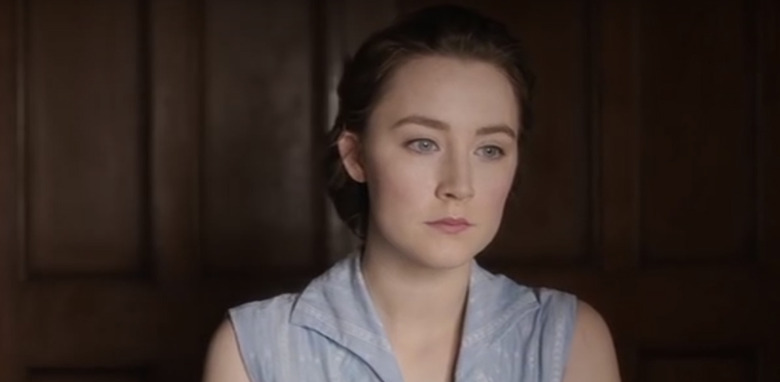 We may receive a commission on purchases made from links.
Even though Brooklyn was nominated for big categories like Best Picture, Best Actress and Best Adapted Screenplay at the 88th Academy Awards, the film ended up going home empty-handed. But that doesn't mean it won't be worth your time to catch it at home if you missed it in theaters. Brooklyn hits Blu-Ray and DVD on March 15th, and ahead of its arrival, a couple deleted scenes have arrived online for you to check out.
Watch the Brooklyn deleted scenes after the jump.
The first scene features Eilis (Saoirse Ronan) as she's doing some shopping for a bathing suit before going to Coney Island with her Italian-American boyfriend Tony (Emory Cohen, who wouldn't be a bad choice to play Han Solo in the forthcoming Star Wars spin-off). She gets a little help from her boss, Miss Fortini (Jessica Paré), which involves her getting a little too close for comfort in the dressing room. It's easy to see why it was deleted since it doesn't really offer much to the film's proceedings
The second scene gives us a bit more of Julie Walters' fantastic character Mrs. Keough, who is also getting her own TV series spin-off from the movie. It appears that after Eilis had a nighttime visit from Tony, Mrs. Keough takes it upon herself to put a lock on the basement gate to keep you suspicious characters. It's clear she's disappointed in Eilis since she explains this by way of Diana instead of telling it directly to Eilis.
Neither of the scenes add anything meaty to the movie from director John Crowley, but I'm always interested to see what didn't make the final cut in any given movie. Brooklyn hits Blu-Ray and DVD on March 15th, and it's the kind of movie you can watch with pretty much anyone in your family, and everyone will find something to love about it.
Brooklyn is the story of a young woman, Eilis (Saoirse Ronan) who moves from small town Ireland to Brooklyn, NY where, unlike home, she has the opportunity for work and for a future – and love, in the form of Italian-American Tony (Emory Cohen). When a family tragedy brings her back to Ireland, she finds herself absorbed into her old community, but now with eligible Jim (Domhnall Gleeson) courting her. As she repeatedly postpones her return to America, Eilis finds herself confronting a terrible dilemma – a heart-breaking choice between two men and two countries.