'Tyler Perry's 'Boo! A Madea Halloween' Trailer: A Real Movie Inspired By A Joke From Chris Rock's 'Top Five'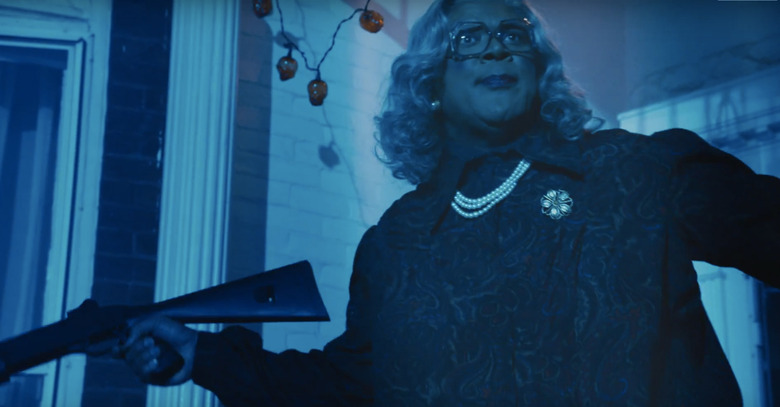 If you didn't go out of your way to watch Chris Rock's 2014 comedy Top Five, you're missing out on the comedian's own Annie Hall, an outstanding romantic comedy that isn't chock full of cliché and actually delivers some pretty potent laughs. And if you haven't seen that movie, that means you missed the joke which names Boo! A Madea Halloween as a fake sequel Tyler Perry made for his old woman alter ego.
But you'll have a second chance to miss it all over again, because it's now a real movie. That's right, a joke from Top Five has been turned into a real movie, and you can watch the outrageous Madea Halloween trailer below.
Here's the first trailer for Boo! A Madea Halloween from Lionsgate:
You know what, I've never seen any of the Madea movies at all. Furthermore, I've never heard anything about them that piqued my interest enough to check them out. Clearly they have found their audience though, not unlike how Kevin James and Adam Sandler have their fans who turn out for all their stupid movies.
But I must admit there's something that feels different about this one. It's almost like Tyler Perry is in on the joke this time and is intentionally making something insanely ridiculous. After all, much like we know Adam Sandler has the potential to do great things such as Punch-Drunk Love, we know that Tyler Perry is a legitimate dramatic actor based on his turn in Gone Girl, so he doesn't need to do junk like this. So he must be having fun, and what's more fun than making a movie that feels like Mrs. Doubtfire meets Home Alone by way of Tyler Perry. Here's the official synopsis:
In TYLER PERRY'S BOO! A MADEA HALLOWEEN, Madea winds up in the middle of mayhem when she spends a hilarious, haunted Halloween fending off killers, paranormal poltergeists, ghosts, ghouls and zombies while keeping a watchful eye on a group of misbehaving teens.
I will say that I feel like they missed the mark by not calling this A Madea Haller-ween, but whatever. One of the misbehaving teens will be played by Bella Thorne, and the rest of the cast also includes Jimmy Tatro, Diamond White, Kian Lawley, and Yousef Erakat. Beyond that, we don't know much else about this inexplicably real movie yet.
Boo! A Madea Halloween hits theaters on October 21, just in time for the spooky holiday, and I hope the existence of this movie means that there's hope of seeing a Scorcher movie starring Ben Stiller, inspired by the fake trailers from Tropic Thunder. Speaking of which, where the hell is that Les Grossman movie that was supposed to be in the works?