Paul Feig's 'Ghostbusters' Trailer Gets A Much Tighter, More Enticing Fan Edit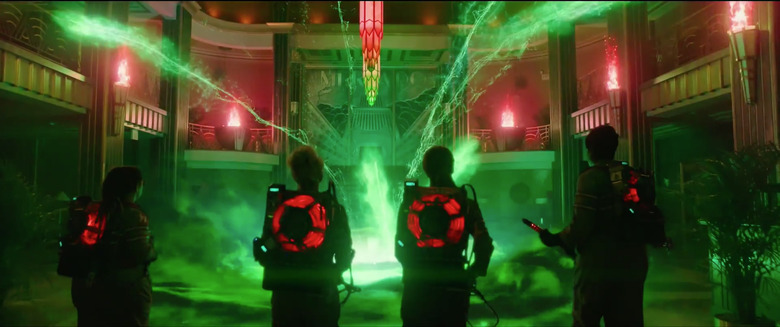 The release of the first trailer for Paul Feig's reboot of Ghostbusters certainly got people talking when it hit the web on March 3rd. For some people it confirmed their worst fears, for others it was a surprising, satisfactory tease of a new direction for the familiar story with plenty of references to the original franchise. Yours truly even ended up going down the rabbit hole of determining that the reboot really needs to take place in the universe of the original films to live up to its full potential.
But just talking about the trailer wasn't good enough for one fan. Instead, they decided cut a much tighter, more enticing teaser trailer for the movie that shows plenty of the good stuff without showing too much. Honestly, I like it infinitely more than the original trailer. Watch the Ghostbusters trailer recut below.
The comedy isn't too in your face, and there's only a hint of the paranormal action and story. Plus, the use of the original Ghostbusters theme song works perfectly fine without creating any confusion as to whether or not the movie is actually connected to the original universe. Sometimes less is more, and this fan edit of the Ghostbusters trailer is prime evidence of that.
However, the problem with this fan edit is that it seems to hide what the movie really is. By cutting out some of the more over the top comedic elements, it doesn't seem to be representative of the movie that Paul Feig made. Of course, since Feig didn't edit the trailer himself, the real trailer may not be indicative of the movie he's made either, especially with the opening shots calling back to the original movie.
At the end of the day, it doesn't matter how we try to shape the Ghostbusters movie ourselves, because Paul Feig already has his movie shot and in the editing room. He had an idea of what he wanted to see from a Ghostbusters reboot, and that's what we're going to get. And I'm just hoping it's something entertaining.
Thirty years after the original film took the world by storm, Ghostbusters is back and fully rebooted for a new generation. Director Paul Feig combines all the paranormal fighting elements that made the original franchise so beloved with a cast of new characters, played by the funniest actors working today. Get ready to watch them save the world this summer!
Ghostbusters will hit theaters nationwide on July 15.