'Game Of Thrones' Season 5 Deleted Scene Features Some Serious Tension At The Wall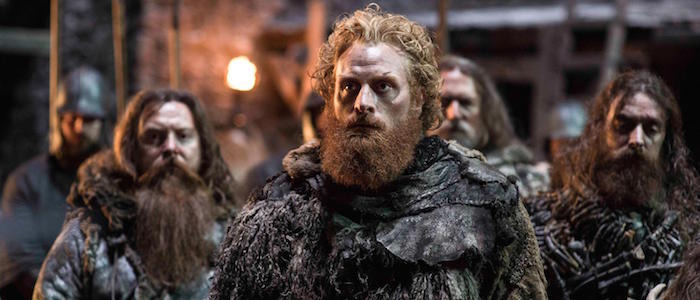 When you're adapting a series as large in scope and detail as George R.R. Martin's A Song of Ice and Fire, you have to be very picky about choosing what makes it to the screen and what gets cut. And then you have to find a way to contort the most vital information into hour-long chunks suitable for a television time slot. In other words, stuff gets left on the floor with every step, with only the absolute necessary pieces making it across the finishing line.
But hey, that's why they invented deleted scenes, right? Game of Thrones season 5 arrives on Blu-ray and DVD later this month and, as usual, the package will be loaded with special features. One of those features, a deleted scene from the season's fifth episode, "Kill the Boy," has made its way online for your viewing enjoyment.
The scene (which debuted over at EW) is a minor one, but it does provide additional context for why you-know-who does you-know-what in the season finale. Game of Thrones season 5 spoilers from here on out.
This deleted scene finds a Night's Watch Master-at-Arms Ser Alliser Thorne (Owen Teale) having a moment with captured Wildling leader Wildling Tormund Giantsbane (Kristofer Hivju) in the Castle Black courtyard. If Thorne were still in charge, Tormund and his allies wouldn't be alive and he indicates as much to him. Tormund, knowing that he has an ally in Lord Commander Jon Snow, rubs it in Thorne's smug face.
As you surely remember, season five concludes with the Night's Watch turning against Jon Snow and assassinating him for his Wildling sympathies. Although we understand exactly why those characters make that huge, game-changing decision, little moments like this could have helped set the stage for the mutiny. It's a shame that little moments like this aren't being quietly spliced back into the episodes for the home video release.
I'm reminded of this deleted scene between Grand Maester Pycelle (Julian Glover) and Twyin Lannister (Charles Dance), which was cut out of a season three episode for length reasons. Sure, it's not vital, but it's an incredible moment between two great characters. Oh, what I'd give for some kind of Game of Thrones "ultimate cut" that restores all of these lost scenes...
Game of Thrones season 5 arrives on Blu-ray and DVD on March 15, 2016. That gives you five weeks to re-watch the whole thing before season 6 premieres on HBO on April 24, 2016 and it looks as good as ever.