Duncan Jones Shares 'Warcraft' Set Pictures, Shows Off A (Mostly) Practical Stormwind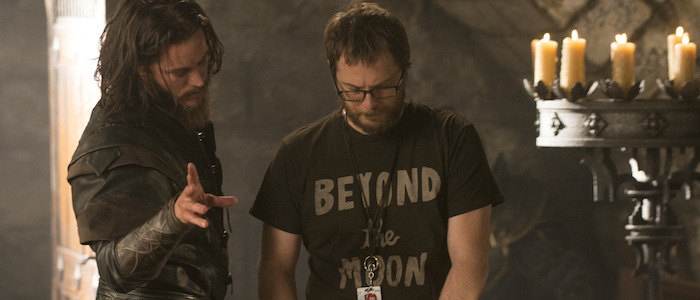 I believe in Warcraft. And I believe in Warcraft because I believe in Duncan Jones, a filmmaker who has demonstrated strong instincts in his previous two films. So while the masses were baffled by early footage at Comic-Con last year and the first trailer was marred by obviously unfinished CGI, I remain hopeful. Jones is too smart and crafty to deliver something forgettable – Warcraft may be great or it may be a disaster, but it almost certainly won't be run-of-the-mill.
But I digress. The real reason we're gathered here today is because Jones released a bunch of behind-the-scenes images on Twitter and they're very cool, focusing on the detailed and enormous practical sets that were constructed for his fantasy epic.
Although Jones doesn't actually come out and say so, these tweets feel very pointed. The amount of digital effects in the previews and TV spots prompted some serious internet complaining, with more than a few people saying that the film looks like a cartoon. And while there is a great deal of CGI in Warcraft (that's an inescapable side effect when half of your characters are being created via motion capture), Jones' point is very clear – the production also utilized a bunch practical effects and real sets.
Most of the photos focus on Stormwind, the human capital of war-torn land known as Azeroth. As you can see in the images below, practical sets included a throne room, some kind of ornate council chamber, and a few quant city streets that look like they were torn straight out of a high fantasy tale. My personal favorite detail is a public board covered with signs and papers. You know, the first stop for any adventuring party looking for a job that pays gold and promises loot.
That was one of a number of big, beautiful sets built for #WarcraftMovie pic.twitter.com/evNfmHirGI

— Duncan Jones (@ManMadeMoon) March 3, 2016
.@CStrable Some of the set for the Stormwind city exteriors pic.twitter.com/zUzTf4dNVL

— Duncan Jones (@ManMadeMoon) March 3, 2016
Hanging out in Stormwind keep's throne room... pic.twitter.com/Kr8JI2PJUp

— Duncan Jones (@ManMadeMoon) March 3, 2016
...and going over VFX shots with my team & some of the gang from @ILMVFX pic.twitter.com/VyAeG0Qrm3

— Duncan Jones (@ManMadeMoon) March 3, 2016
Just another day on the busy streets of downtown Stormwind. #WarcraftMovie pic.twitter.com/0VqzBopSyg

— Duncan Jones (@ManMadeMoon) March 3, 2016
Here's the official synopsis for the film:
The peaceful realm of Azeroth stands on the brink of war as its civilization faces a fearsome race of invaders: Orc warriors fleeing their dying home to colonize another. As a portal opens to connect the two worlds, one army faces destruction and the other faces extinction. From opposing sides, two heroes are set on a collision course that will decide the fate of their family, their people and their home. So begins a spectacular saga of power and sacrifice in which war has many faces, and everyone fights for something.
Warcraft storms into a theater near you on June 10, 2016. Cross your fingers and hope this is the movie to break the video game adaptation curse.