Richard Linklater's 'Everybody Wants Some' Gets A Funky Mondo Poster And Official Beer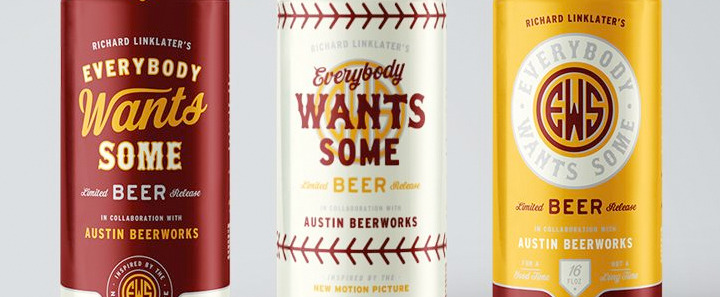 Not only are Alamo Drafthouse theaters known for being spectacular places to see all sorts of great films from today and years past, but they also allow you to toss back a cold one while watching them. And when Richard Linklater's latest film, Everybody Wants Some, debuts at SXSW next week, it will be followed in a few weeks by the movie's own official beer fro Austin Beerworks.
If there's one movie that deserves to have its own beer, it's the spiritual sequel to Dazed and Confused, which brings us a story about college life in 1980. But if you're not of age to drink, or you just hate beer, there's also a cool new Mondo poster for the movie that has just been unveiled in conjunction with the forthcoming Richard Linklater gallery show.
Find out where and when you can get the Everybody Wants Some beer and see the Mondo poster for the movie below.
First up, the Everybody Wants Some beer will arrive in April, and here's how it looks (via Alamo Drafthouse):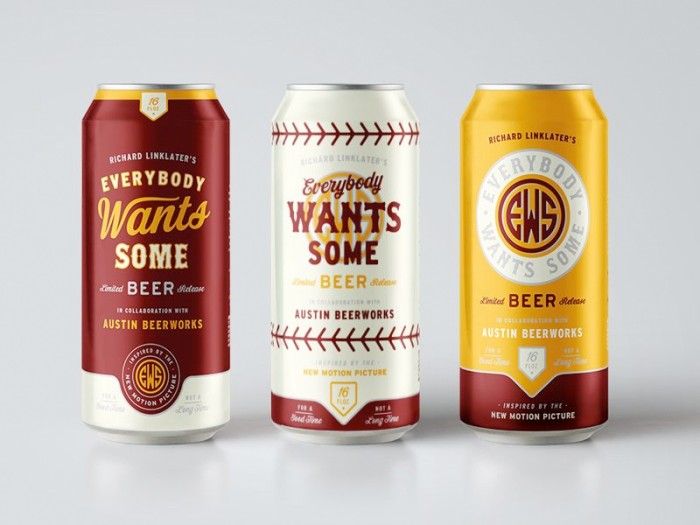 And here's how the beer is described for all you connoisseurs out there:
A clean, dry finish with small additions of wheat and oats leave behind a hint of body. Saphir and Jaryllo hops provide bright orchard fruit and floral notes.  If we had to call it a certain style, it would be "Dry-hopped Texas Common Beer" – but we prefer to just drink it.
And director Richard Linklater provides his full support, saying:
This is definitely a beer drinking movie – it's a big piece of that hard partying college world. It's flattering and fitting that these two institutions in my own backyard, Alamo Drafthouse and Austin Beerworks, would come together to celebrate the release of 'Everybody Wants Some' in this way. Downing a can or two of beer while watching it certainly feels appropriate – but you should probably resist any urge to shotgun them.
Here's hoping that the beer doesn't inspire any college-level drunkeness at any of the SXSW screenings, or any screenings for that matter. Thankfully, the beer will only be limited to stores in Austin and select Alamo Drafthouse locations across Texas, so it's not something the rest of the country has to worry about.
On the non-alcoholic side of movie promotion, Mondo has just unveiled an Everybody Wants Some poster over at Entertainment Weekly with artwork by Matt Taylor. Here's the poster: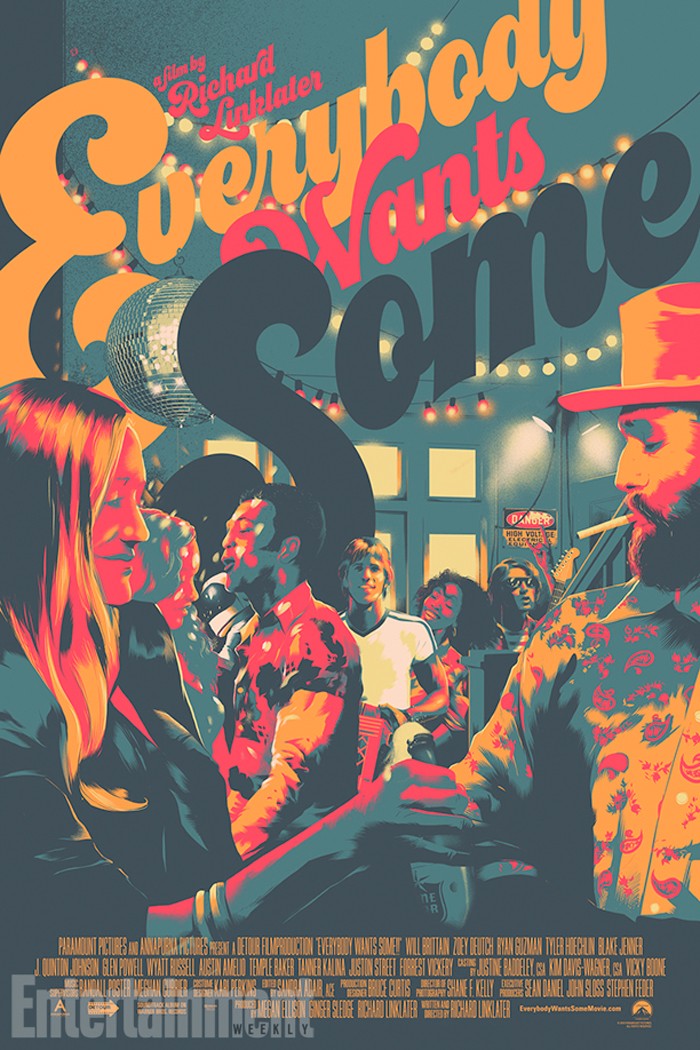 This is just one of the pieces that will be on display for the No Longer / Not Yet" gallery show in honor of Richard Linklater. The gallery runs from March 12 through March 15 during SXSW at 4115 Guadalupe St. in Austin, Texas. Otherwise, Everybody Wants Some is heading to theaters on April 1, and you can watch the trailer for it right here.