'Batman V Superman: Dawn Of Justice' Early Buzz Mixed-To-Positive, Box Office Tracking About Where You'd Expect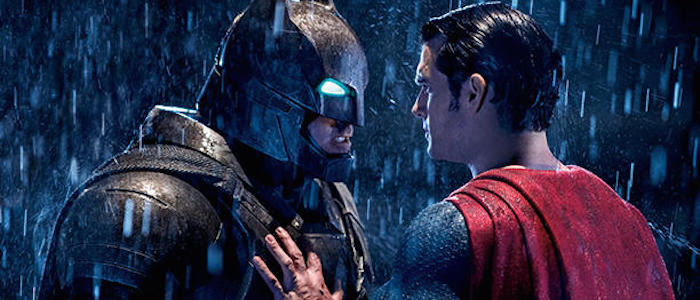 I've written many words about how the marketing for Batman v Superman: Dawn of Justice has pulled me in every direction. Buy me a drink and I'll quietly explain to you in excruciating detail why I really dig Man of Steel while entirely understanding why so many others loathe it. I've even gone on the record about typically enjoying the films of Zack Snyder, even when he makes a habit of putting his foot in his mouth.
In other words, I'm the target audience for Batman v Superman and I truly, genuinely, deep down in my shriveled little heart, want it to be a good movie. And while hushed and whispered reactions to the film have been leaking online for some time now, the first sort-of official public reaction has arrived and it's positive.
Anthony Breznican, the Entertainment Weekly writer behind those Batman v Superman stories we covered earlier today, was shown the film to prepare for the magazine's big cover story. And while he won't be actually reviewing the film, he did take to Twitter to share his mostly positive thoughts.
Fanboys flew into an uproar a few weeks ago when HitFix's always reliable Drew McWeeny revealed that Warner Bros. had been screening the film to extremely mixed reactions. The resulting internet headache missed the forest for the trees – the fact that Batman v Superman is causing strong reactions at all is a sign that it will be, at the very least, an interesting film worthy of discussion. You should be more worried if the reaction was a shrug emoticon. In any case, the basic word on the wind is that Warner Bros. has no idea what the make of the film, which isn't necessarily a bad thing...although it can look like a bad thing from the outside. As writer Jeremy Smith tweeted:
The worst kept secret in Hollywood right now is that BATMAN V. SUPERMAN is an outright disaster. This means I'll probably like it.

— Jeremy Smith (@mrbeaks) March 2, 2016
Meanwhile, Deadline took a deep dive into the early tracking for Batman v Superman and the results are about as mixed as the early buzz. The film should open to between $300 million and $340 million internationally, which certainly sounds like a decent start. However, domestic tracking has the film opening between $120 million and $140 million, which isn't anywhere near where the studio wants it to be. After all, Man of Steel opened to $116 million three years ago and didn't even crack $300 million at the domestic box office. To use a more recent example, Deadpool opened to $132 million while dealing with an R-rating and on a budget that's a fraction of what Batman v Superman costs.
In other words, it's tracking well, but not nearly well enough. Then again, tracking has been grossly incorrect before. The real test here will be whether or not audiences like the film. If regular people enjoy Batman v Superman, it'll make the necessary money...and by necessary, I mean at least $1 billion worldwide.
Batman v Superman: Dawn of Justice opens on March 25, 2016.