Ian McShane Drops 'Game Of Thrones' Season 6 Details, Accidentally Proves A Huge Fan Theory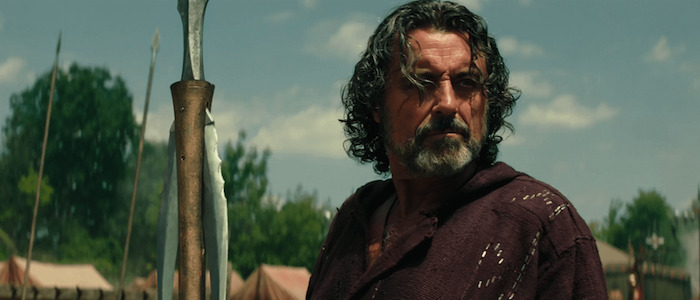 A few months ago, the great Ian McShane dropped a few hints about who he's playing on Game of Thrones season 6. It wasn't much, but it was enough to make an educated guess about his character and his role on the show. Today, McShane participated in a new interview and he said a little too much, essentially confirming that that early prediction and accidentally confirming a popular fan theory that has been the subject of much discussion amongst the readers of George R.R. Martin's A Song of Ice and Fire book series.
Naturally, big, huge, gigantic plot points lie in wait below, so tread carefully. Spoilers are coming.
McShane (who recently joined the cast of the American Gods TV series) was a guest on BBC Breakfast, where he was grilled about his top secret role in HBO's popular fantasy series. Although he's reluctant to give details, he does break down and offer the hosts just a little tease:
My character is an ex-warrior who has become a peacenik. So I have this group of peaceful...sort of a cult, a peaceful tribe. I bring back a much loved character who everyone thinks is dead. I'll leave it at that.
To the average, ordinary Game of Thrones viewer, that doesn't mean much at all. But to the super-fan who has read the novels and spends far too much time debating the finer details of the various mysteries Martin injects into his text, it means a great deal. The spoilers start now.
In A Feast For Crows, the fourth book in Martin's series, Brienne of Tarth and her loyal squire Podrick Payne stumble across a community on the isolated Quiet Isle. There, a former knight turned healer and religious leader called "The Elder Brother" runs a community of monks, all of whom have taken a vow of silence. So far, that certainly sounds like the character McShane is describing.
But here's the kicker – it is heavily implied (but not confirmed) that one of the hooded, silent monks is actually Sandor Clegane, better known as the Hound. After all, one of the men under the Elder Brother's care is well over six feet tall, walks like he's recovering from a major injury, and spits whenever anyone mentions knights. The basic gist: the Elder Brother found the Hound as he was dying, saved his life, and offered him a second chance at life.
This is strictly a fan theory and has yet to be proven true or false in the actual text of Martin's work. But all of the evidence is there and McShane's description of his character aligns perfectly with everything that has long been speculated. With Game of Thrones officially going into uncharted, beyond-the-books territory in season six, it's impossible to say what kind of role Sandor will play moving forward (although there are more theories), but it will certainly be nice to have Rory McCann back on this show. I don't know about you, but I've missed that grumpy lug.
Game of Thrones season 6 premiers on April 24, 2016. You can watch video of the McShane interview below. Thanks to THR for first brining this video to our attention.