Cool Stuff: 'Aliens' Cookie Jar Won't Kill You Quite As Quickly As A Xenomorph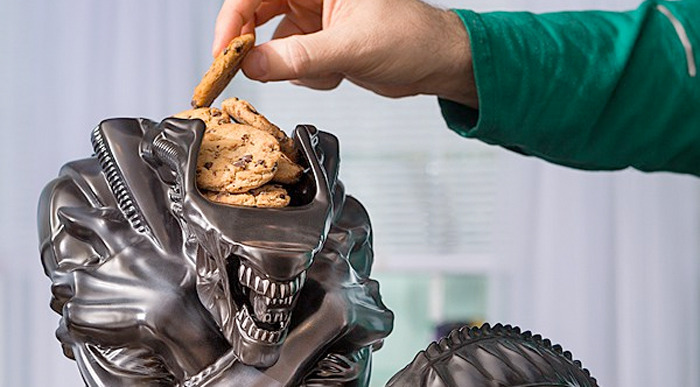 Get away from those cookies, you bitch! That's what you'll be shouting to any of your friends who decide to go snooping in your Warrior Alien ceramic cookie jar that is available for purchase right now. Sadly, it doesn't come with cookies shaped like facehuggers, but that's something that you can probably make yourself. But first you need the Aliens cookie jar, and you can find out how much it'll cost you below.
ThinkGeek has the Aliens cookie jar available for purchase for $45.  It's a 12" ceramic item sculpted by Paul Harding, and it's an officially licensed item. The top of the head comes off to reveal the tasty goodies inside, which is almost as morbid as one of the tiny xenomoprhs bursting from John Hurt's chest.
But unlike the xenomorphs, this warrior alien will only kill you slowly, thanks to the sweet treats contained in its head. You know, because of diabetes and stuff. And sadly this jar doesn't make any of those signature Alien noises when you open it. Though the only sound it might make when you open up its head would be a piercing scream.
If you want to create a sort of reverse nesting doll situation instead of keeping sugary treats to tempt you tastebuds, you can put some of NECA's Alien eggs into the cookie jar instead. That should make for a nice little surprise for anyone who tries to steal your cookies without asking you first. And then it's game over, man.
Plus, Bottleneck Gallery has some new Alien prints available for you to buy right now. In space, no one can hear your bank account emptying for all this cool stuff.