Ridley Scott Is Bringing Dan Simmons' 'The Terror' To AMC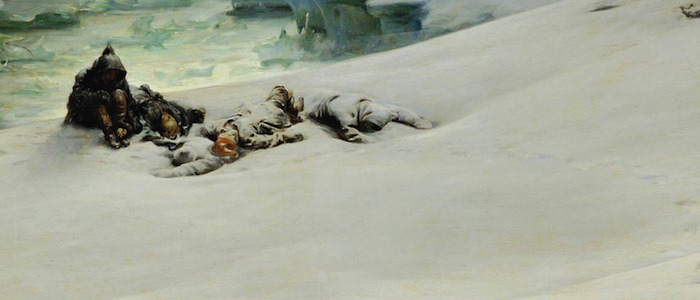 The good news: AMC has greenlit a television series based on Dan Simmons' The Terror, an acclaimed historical horror novel that could make for thrilling TV. The weird news: it is reportedly an "anthology series" and I literally have no idea what that could possibly mean in this context. Seriously.
The news comes our way courtesy of Variety, who say that AMC has ordered ten episodes that will premiere in 2017. Ridley Scott and David W. Zucker of Scott Free will executive produce the series alongside Alexandra Milchan and Scott Lambert. David Kajganich (True Story) and Soo Hugh (The Killing) will act as showrunners, with Kajganich writing the series.
Simmons' book is historical fiction, exploring what might have happened to Sir John Franklin and the crew of the HMS Terror when they vanished while exploring Northwest Passage between 1845 and 1848. But it is also a grisly horror story, as those not killed by natural causes are picked off one-by-one by some kind of creature. Here's the official description for the novel:
The men on board HMS Terror have every expectation of finding the Northwest Passage. When the expedition's leader, Sir John Franklin, meets a terrible death, Captain Francis Crozier takes command and leads his surviving crewmen on a last, desperate attempt to flee south across the ice. But as another winter approaches, as scurvy and starvation grow more terrible, and as the Terror on the ice stalks them southward, Crozier and his men begin to fear there is no escape. A haunting, gripping story based on actual historical events, The Terror is a novel that will chill you to your core.
Although I have yet to read The Terror, I am familiar with Simmons' work and the man knows how to turn the screws. His Song of Kali is one of the most effective and chilling horror novels ever written. His work being adapted is a good thing.
But this is where things start to get weird. Variety (and other outlets) confirm that this will be an anthology series, which doesn't seem to make much sense. Joel Stillerman, president of original programming and development for AMC and SundanceTV, offers this quote about the series:
We've been focused on developing this incredible story for television with these great partners for a couple of years, and we think it provides rich dramatic material but also an opportunity to explore the anthology format, which is something we're extremely interested in and offers some unique possibilities.
Stillerman fails to explain how an adaptation of a novel into a 10-episode series is an anthology. Traditionally, anthology shows tell a different story with each episode (like The Twilight Zone), but recent riffs on the formula have seen anthology shows that tell a different story each season (like American Horror Story). How Simmons' work can be transformed into either of those is, well, a little baffling.
However, this quote from Kajganich may shed some more light:
Dan's novel is that rare combination of fascinating actual history, ground-breaking genre storytelling, and the complex character work of literature. The chance to launch a series that will incorporate all of these elements going forward, and with a team of this caliber, is extraordinary.
From that, we can extrapolate a little more. Is AMC making a historical horror series called The Terror that will initially adapt the novel of the same name before telling new historical horror tales in future seasons while operating under the same title? That could be what Kajganich is implying here.
In any case, you can consider me on board for at least the first season. Simmons has a large body of work demanding film and television adaptations, so hopefully this will be the first of many projects.