Bottleneck Gallery Unveils New 'Alien' Posters Featuring A Perfect Organism And One Lucky Cat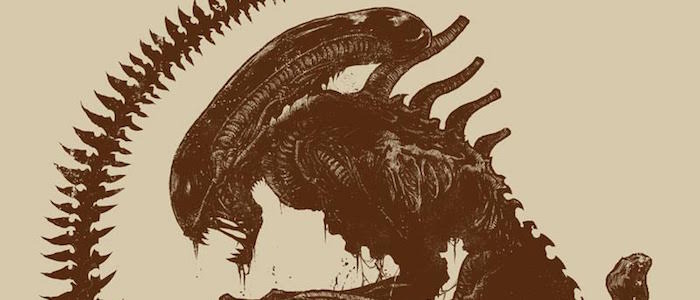 If you ask someone to name every character who survived the events of Ridley Scott's 1979 masterpiece Alien, they'd surely mention Sigourney Weaver's Ellen Ripley blasting that Xenomorph into space and putting herself in suspended animation for the long, ill-fated trip home. But will they mention Jonesy, the incredibly lucky ginger cat who somehow manages to avoid death at the claws and jaws of the galaxy's most dangerous predator and the Nostromo's self-destruction? As an animal fan, watching Ripley struggle to get to the escape shuttle while toting a clunky animal kennel while a vicious alien pursues her is high on my list of nightmares.
The incredible Bottleneck Gallery has revealed the first in new series of Alien posters and the focus is squarely on the film's two non-human characters: the alien itself and Jonsey the cat. Sure, the rest of the crew is present as well, but they're, well, more than a little dead.
Created by the artist Godmachine, "Jonsey" is a highly detailed piece of work, managing to be beautiful and grotesque in equal measure. As you can see, the art depicts the Xenomorph perched atop a pile of corpses (including one familiar spacesuit) while Jonsey the cat stands at the forefront, seemingly unnoticed.
As you can see in the gallery below, there are three separate editions of "Jonsey" – one regular edition and two variants that tweak the color scheme. I personally like the first one the best, as those simple, almost clinical colors better show off the little details in Godmachine's work. The regular edition is part of a limited edition of only 125 prints and will set you back $40. Each variant costs $50 but will be part of a far more limited 50 print run.  Every edition measures 18" x 24" and they all go on sale tomorrow, March 3, 2016, at 12:00pm eastern time. If you're interested, you're going to want to keep an eye on the Bottleneck Gallery site and act fast.
Although geek art is a huge industry these days, Bottleneck Gallery has keeping up with the biggest names in the business recently, snatching up interesting licenses left and right and creating strong work. You may remember their recent Star Wars run, particularly their stunning poster for the entire trilogy. Coming Soon, who premiered these posters, suggests that we'll be seeing more Alien-themed posters in the near future and that's a good thing. After all, how can you have an Alien poster on your wall and not want to have an Aliens companion piece right next to it?
And the timing is certainly right, too. After all, Alien: Covenant is going before cameras very, very soon.