Spike Jonze Shot A Lovely Short Film To Open 'The Late Show With Stephen Colbert'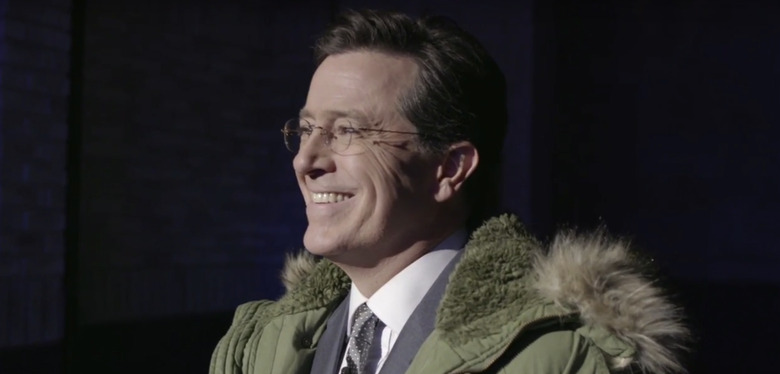 Unfortunately, we have no idea when/if we'll get another feature film from Spike Jonze, the director who brought us Her, Where the Wild Things Are, Adaptation and Being John Malkovich. That's definitely a bummer, but to hold us over, Spike Jonze brought his filmmaking talents to The Late Show with Stephen Colbert by shooting a sweet short film to open the show instead of the usual lively title sequence. There's even a familiar friendly face that makes an appearance to make it even more wonderful.
Here's the Spike Jonze short film with Stephen Colbert from The Late Show:
What I love about this short is that you don't even need to know what's going on in Colbert's life to feel his sorrow. The sad version of the theme song from Jon Batiste works beautifully to drive the story, and the use of Grover from Sesame Street is so uplifting and lovely. Here's hoping that they use this opening every now and then just to change things up. If not, we can always just watch it online.
By the way, if you're wondering what Jonze is up to since he's not working on another movie, he stopped by Colbert's show to talk about a new TV channel that he has launched called Viceland. Here's him talking with Colbert about it on Monday night's show:
If you want to know more about Viceland, check out the official website right here, where you can also check out free episode of some of the programming on the channel, including a show with Ellen Page called Gaycation. See if they have anything up your alley.