'Fun Size Horror Volume 2' Trailer: The Horror Anthology Is Alive And Kicking And Probably Trying To Kill You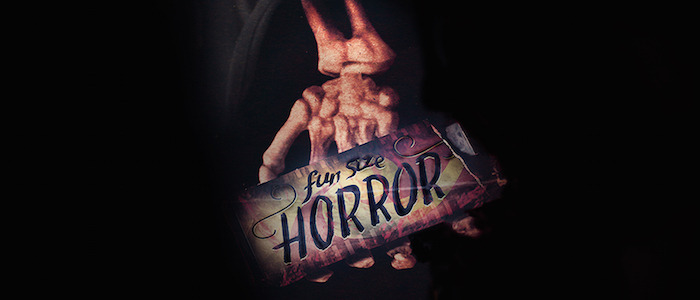 There are few things I cherish as much as great horror anthology. The absolute best of the best offer a few horror movies for the price of one. Even lesser anthologies still have their moments, especially since it's easy to stick out a weaker segment since you know that another story is just a few minutes away and it'll probably, hopefully be an improvement.
While horror anthologies tend to stick to the fringes of the genre circuit these days with films like V/H/S, Southbound, and The ABCs of Death, this format remains alive and well. In many cases, these films are the best way to discover promising new talent – you just wait for the one short or segment that blows your socks off. Now, the new trailer for Fun Size Horror Volume 2 has arrived and it offers 13 horror shorts directed by 13 different directors.
As the title implies. Fun Size Horror Volume 2 is the follow-up to Fun Size Horror Volume One, a 2015 collection of 18 horror shorts. Like the first film, the sequel jumps between subgenres and tones at the whims of the various filmmakers involved, featuring the work of Grant Olin, Michael May, Zeke Pinheiro, Peter Chun Mao Wu, Stephen Boyer, Max Isaacson, Mark Alan Miller, Patrick Rea, Vivian Lin, Ned Ehrbar, Andrew Wesman, Taylor Phillips and Karen Gillan.
Following a brief theatrical run last year, Fun Size Horror Volume 2 is heading to Hulu on March 4, 2016. From there, Filmbuff will bring it to other platforms. You can watch the trailer below.
As expected from a horror anthology with 13 different directors, the whole thing looks like a mixed bag. Some shorts look interesting and immediately grab the eye while others...don't. But that's part of the fun of these kinds of movies – you watch them with a group and get to debate which segments you preferred. Here's the official synopsis:
FUN SIZE HORROR: VOLUME TWO is a mix-tape of genre tales that explores horror from a group of unique and exciting filmmakers. The short films range from horror conventions gone wrong and ghostly romps to hauntings and nail biting rodent infestations. All the films are carefully placed into one feature length film designed to chill and delight horror fans.
The Fun Size Horror films are part of a larger project that monetizes and distributes horror short films. The fruits of the founders Zeke Pinheiro, Michael May and Mali Elfman's labors (which includes 50 horror shorts now) can be found on their official website. The company has recently launched an Indie GoGo campaign to expand their community and improve their distribution network. So if that sounds like a cause worthy of a few bucks, head that way and take a look.