Steven Soderbergh Goes 'Godless' For Netflix, Insert Your Own "I Thought He Was Retired?" Joke Here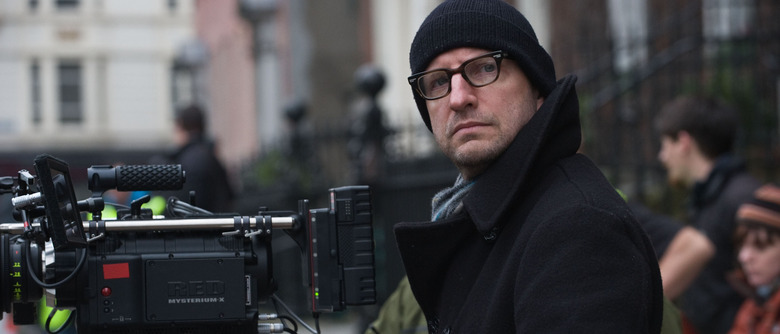 Remember when Steven Soderbergh retired for about a minute or so? Well, the director of Magic Mike, Traffic, and Ocean's 11 has been busier than ever since he said he was done making movies, but his attention has turned to the small screen and the television medium has welcomed him with open arms. If you haven't watched his Cinemax series The Knick, you have homework – watching one of our most versatile filmmakers play with longform storytelling without a major movie studio breathing down neck has been a huge treat. The Knick isn't just great TV, it's great Soderbergh. Full-stop.
But Soderbergh has been spreading the love to anyone who wants it. He executive produced the Amazon series Red Oaks and has a hand in the upcoming Starz series based on his 2009 film The Girlfriend Experience. Now, he's going where all interesting filmmakers ultimately end up: Netflix. And he's making a western.
Deadline reports that Soderbergh is teaming up with screenwriter Scott Frank for the limited series Godless, the latest original programming from the streaming giant behind House of Cards and Orange is the New Black. Plot details are unknown, but Deadline does say that the series is "a Western set in an 1800s New Mexico mining town." The project is currently casting and the series will be shot in Santa Fe, New Mexico, which is one hell of a beautiful (and like many arid locales, occasionally terrifying) place to set a western.
This won't be the first time Soderbergh and Frank have collaborated, as the latter received an Oscar nomination for writing the former's 1998 masterpiece Out of Sight. His other writing credits include The Wolverine, Marley and Me, Minority Report, Get Shorty, and A Walk Among the Tombstones, which he also directed.
And now, we wait, but we shouldn't have to wait too long. Netflix hasn't even suggested a release date for this project, but Soderbergh is a famously quick filmmaker and the tales of how he kept a detailed period drama like The Knick on budget and schedule are nothing short of legendary at this point. Seeing him turn his attention to the American Southwest during the 19th century with the writer of one of his best movies at his side is an exciting prospect. It's been too long since Deadwood scratched our western TV itch and Hell on Wheels certainly didn't do the trick.
Meanwhile, Soderbergh is also eyeing a few other projects, including a potential return to feature filmmaking. When he's not busy directing one of a dozen active projects, he's reading and watching more movies than you are. The man is a beast and we are lucky that he's still working.