'Sausage Party' Will Screen At SXSW As A Work-In-Progress Cut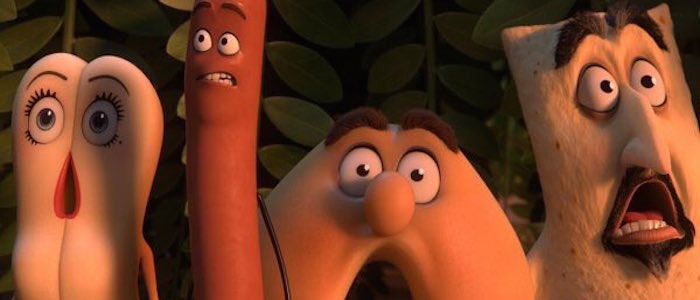 Every film festival has its unique identity. Programmers from all backgrounds and walks of life come together to create a voice for a fest, selecting and pursuing movies that they believe serve their particular slice of film fanatics. And while it would be unfair to to reduce a film festival as unique and special and varied as SXSW to "Yeah, they the exact kind of outfit that would take a chance on an R-rated animated comedy about talking food," it's true. They are the exact kind of outfit that would take a chance on an R-rated animated comedy about talking food.
The SXSW Film Festival has announced that it will screen a "work-in-progress" cut of Sausage Party, the latest project to blossom from the deranged minds of Seth Rogen and Evan Goldberg. Although the film sounds like a lazy riff on the Brave Little Toaster and Toy Story template, the fact that this animated film is intended for adult audiences and features a killer line-up of voice talent suggests that we're supposed to make that comparison...only for the formula to be torn to shreds.
SXSW announced the special screening in a press release and Rogen took to Twitter to reveal the first image from the film, which is scheduled for an August 12, 2016 release date. Behold: four talking pieces of food, each of them presumably voiced by a know and well-liked comedian!
Behold!!!! The first image from SAUSAGE PARTY!!! Coming this Summer! pic.twitter.com/GDaIXDxISb

— Seth Rogen (@Sethrogen) March 1, 2016
For the record, that cast includes Rogen, Kristen Wiig, Paul Rudd, Nick Kroll, Jonah Hill, James Franco, Edward Norton, Michael Cera, Bill Hader, Danny McBride, David Krumholtz, Craig Robinson, and presumably anyone else they could squeeze into a recording booth for a few minutes. Rogen and Goldberg (whose previous screenwriting credits include This is the End, Pineapple Express, and the upcoming Preacher) penned the script alongside Ariel Shaffir and Kyle Hunter. Greg Tiernan and Conrad Vernon are directing. Rogen, Goldberg, and Vernon and producing alongside Megan Ellison, whose Annapurna Pictures has a hand in making the film.
Yes, the studio behind The Master, Zero Dark Thirty, Her, and Spring Breakers is involved in an R-rated animated film about talking food. If you're not fully interested, than surely you're just a little intrigued, right? This sounds too weird to ignore.
Here's how the film is described by Nitrogen Studios, who are responsible for the film's animation:
Sausage Party is an R-rated theatrical animated movie about one sausage's quest to discover the truth about his existence. After falling out of a shopping cart, our hero sausage and his new friends embark on a perilous journey through the supermarket to get back to their aisles before the 4th of July sale.
Since this is a work-in-progress cut, anything can change between the film's SXSW screening in two weeks and its release later this year. In fact, the film will probably have unfinished scenes and possibly a storyboard or two in place of shots that don't exist yet. But like past Rogen and Goldberg joints, they probably want to get the film in front of an audience as soon as possible to see which jokes land and which ones fall flat. /Film will be at SXSW this year, so look for our coverage of this screening later this month.
Here is the full press release from SXSW:
We're thrilled to announce the addition of a work-in-progress screening of Sausage Party. This animated feature, a Columbia Pictures and Annapurna Pictures presentation and a Point Grey production, is about as raucous and hilarious as you'd expect from the fertile minds of Seth Rogen and Evan Goldberg.
We've long embraced and celebrated comedy at SXSW, and Sausage Party (Work-In-Progress) features the vocal talents of some of the greatest comedy actors of our time, including SXSW alumni Rogen, Kristen Wiig, Paul Rudd, Nick Kroll and Jonah Hill as well as some surprises.
This is not Rogen's first time at SXSW, having appeared with Neighbors and Observe and Report, and he and Goldberg will also present their Episodic title Preacher at this year's event.
This screening is a Special Event, but it's also part of Convergence and SouthBites, which means it's open to all badge types. Don't miss it – Sausage Party (Work-In-Progress) screens Monday, March 14, 9:15 pm at the Paramount Theatre.