'Rogue One' Star Diego Luna Joins That 'Flatliners' Remake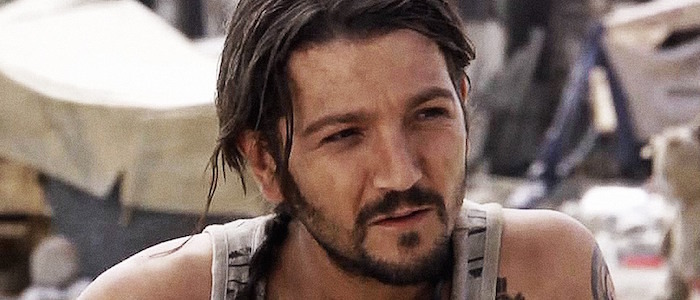 Is there anyone out there demanding a Flatliners remake? Probably not. The original 1990 film is fine, a perfectly adequate supernatural thriller that goes down easy enough and then vanishes from the brain without leaving a last impression. In a weird way, this actually makes it the ideal movie for the remake treatment – there is no reason to film new versions of beloved, classic movies when there are plenty of great concepts attached to forgettable movies floating around, awaiting resurrection.
The last we heard from Flatliners, the delightful Ellen Page was attached to lead the film. Now, she has her first co-star in the form of Diego Luna, the talented Mexican actor known for his work in films like Milk, Elysium, The Terminal, and Y Tu Mamá También. Oh yeah, he's also in some upcoming movie called Rogue One: A Star Wars Story.
The news of Luna's casting comes to us via The Wrap. Although exact details of the remake and its characters remain unknown, it would be easy to assume that Luna will be playing the role Kiefer Sutherland played in the original film while Page takes on the Julia Roberts part. But that would be too easy, so I'm going to assume that Luna is playing Roberts and Page is playing Sutherland until someone says something official. It's 2016, so why not gender swap a remake of a movie that no one is particularly passionate about? After all, the core cast of the original film consisted of four men and one women while this new version will follow three women and two men. You know...diversity!
The original Flatliners was directed by Joel Schumacher and followed a group of medical students who stop each other's hearts to see if there's anything after death. Naturally, there is something beyond the veil of death and it's none too happy to have visitors. Thrills and chills and such ensue.
The remake will be directed by Niels Arden Oplev, who is best known for helming the original The Girl With the Dragon Tattoo and the pilot episode of Mr. Robot. Source Code writer Ben Ripley is behind the screenplay while Laurence Mark and Michael Douglas produce.
There is no release date for Flatliners just yet, but production is set to begin in July. Meanwhile, Luna is keeping busy. In addition to that Star Wars movie, he's also set to star alongside Mel Gibson in the upcoming Blood Father and will play a role in Ana Lily Amirpour's The Bad Batch. If you didn't know Luna before now, you will know him very soon.