'Ice Age: Collision Course' Trailer: The Shangri Llama May Be Everyone's Last Hope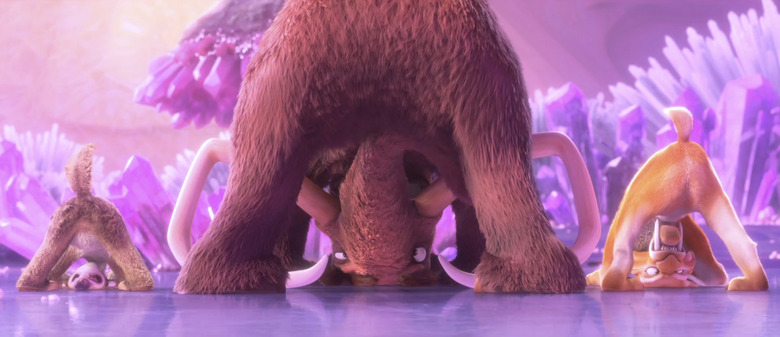 This year the Ice Age franchise will have been going on for 14 years. That means that some of the kids who grew up with the first movie may be having kids of their own now, which is a bit depressing. But that just means 20th Century Fox has a new round of kids to crack up at the silly prehistoric antics of their latest sequel, Ice Age: Collision Course.
As we've seen extensively before, Scrat is still chasing his acorn, but he ends up getting launched into space, creating a cosmic disaster, and ends up triggering a slew of meteors headed straight towards Earth. It's up to Sid (John Leguizamo), Manny (Ray Romano) and Diego (Denis Leary) and the rest of their weird friends to figure out what's going on in order to survive what could be a world-ending disaster.
Find out who they meet on their journey in the new Ice Age Collision Course trailer below.
Apparently the key to survival will be the new age Shangri Llama, voiced by Modern Family star Jesse Tyler Ferguson. Of course, this guy loves yoga, but does he actually hold any information that will help them survive the meteor shower that keeps raining space rocks down on them? More than likely, yes, because 20th Century Fox doesn't seem keen on killing their characters the way Disney kills parental figures.
That's probably why the cast now includes everyone and their mother. This sequel features all these other voices: Queen Latifah, Seann William Scott, Josh Peck, Simon Pegg, Keke Palmer, Wanda Sykes, Jennifer Lopez, Stephanie Beatriz, Adam DeVine, Max Greenfield, Jessie J, Nick Offerman, Melissa Rauch, Michael Strahan and even Neil de Grasse Tyson.
If you want to see more of the story, including Simon Pegg's wacky character, watch the previous trailer right here. This one is still a few months away, but we're bound to see more from this "chillogy" before it arrives this summer.
Scrat's epic pursuit of the elusive acorn catapults him into the universe where he accidentally sets off a series of cosmic events that transform and threaten the Ice Age World. To save themselves, Sid, Manny, Diego, and the rest of the herd must leave their home and embark on a quest full of comedy and adventure, traveling to exotic new lands and encountering a host of colorful new characters.
Ice Age: Collision Course arrives on July 22.