These 'Batman V Superman' TV Spots Will Show You What It Means To Be A Man (Mainly Brooding And Punching)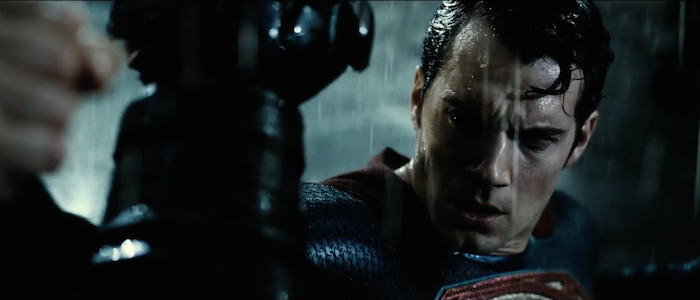 The marketing for Batman v Superman: Dawn of Justice has been a real rollercoaster ride. For every trailer or clip that promises something truly special and unique, there's been another that's downright embarrassing. For every killer moment and tremendous shot, there's the reminder that there's a scene where Batman asks Superman if he bleeds. I continue to have faith that Batman v Superman will be an interesting movie and hopefully a great one. As card-carrying member of the Man of Steel fan club – There are dozens of us! Dozens! – I cannot wait to see what director Zack Snyder does when he's allowed to fully run wild with the DC universe.
Will this new batch of Batman v Superman TV spots change any minds? Probably not. Like so many of the previews so far, these things have a split personality, showing off the movie I want to see (Fun! Big! Weird! Energetic!) and the movie I'm dreading. You know, the movie where Batman has to teach Superman "what it means to be a man." Ugh.
Each of these four new spots follow the pattern established by the last big trailer. Although the final film will hopefully prove to be more even-handed, the marketing has officially started to sell this movie as "Heroic Underdog Batman Takes On The Merciless Monster That Is Superman." It makes sense in a crass sort of way, as the Dark Knight is as popular as ever and audiences were thoroughly mixed on the previous Superman outing. And to be fair, Ben Affleck does look pretty darn good here, even when he's speaking in that still-silly modified voice.
Still, Henry Cavill is too good to be reduced to a Batman villain. Sure, they're going to be best buddies by the time the credits roll, but will that be enough?
Each of these spots essentially recycles the same batch of footage, but you can feel free to do a frame-by-frame if you really want to see what's new. There are some nifty shots from Batman and Superman's big battle, as well as what appear to be a few cool moments with the Batmobile that register as new to me. And, unfortunately, each trailer finds a way to incorporate the "what it means to be a man" line, which is obnoxious in this context. But like so much else that I've seen from this film, I genuinely hope it plays well in the final film.
Batman v Superman: Dawn of Justice opens on March 25, 2016. You can watch the rest of the TV spots below. If you want more, a new clip from the film has also debuted online.