'Trumped' Musical: Nathan Lane & Matthew Broderick Reunite For 'The Producers' Spoof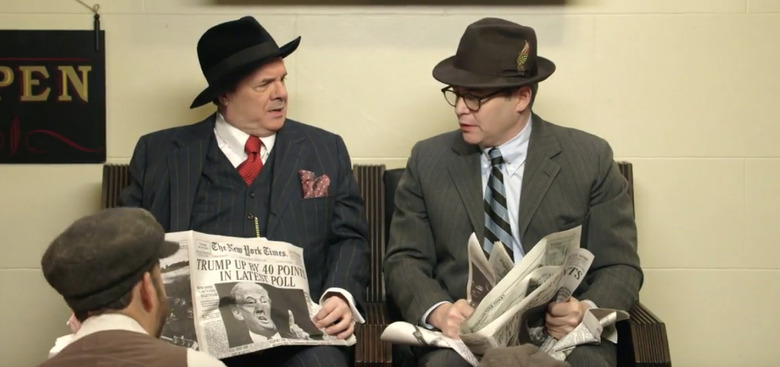 Sunday night after the Oscars, late night talk show host Jimmy Kimmel had his usual star-studded show to follow Hollywood's biggest night. There was plenty of fun to be had, from the premiere of a deleted scene from Batman v Superman: Dawn of Justice featuring Kimmel himself discovering the true identity of Clark Kent and Bruce Wayne, to the latter star helping to sneak Matt Damon into the show.
But outside of comic book jokery and the usual Matt Damon feud shenanigans, Jimmy Kimmel also rounded up Broadway and big screen duo Matthew Broderick and Nathan Lane for a new take on The Producers, this time turning Bialystock & Bloom into political consultants who concoct a plan to make money off of a candidate who is "a real trainwreck, a schmuck, a putz, a real Grade A, world-class, gold-plated nincompoop." Yeah, you know who they're talking about.
Here's the Donald Trump musical parody from Jimmy Kimmel Live:
Go ahead and shout about politics in the comments, but no matter what side of the aisle you're on, this is good satire. Believe it or not, it's possible to laugh at jokes about politicians that you support just as much as the ones you don't support. And this is quite the impressive little sketch, musical number included, to continue making a mockery of the campaign of Biff Tannen Donald J. Trump.
Even though I'm a fan of Saturday Night Live, I have to say that this sketch is better than any of the usual political sketches they've done on the show this season. But you just can't go wrong with Nathan Lane and Matthew Broderick together. And bonus points for Cloris Leachman popping up as well.
For more Donald Trump satire, don't forget to watch Johnny Depp's mystifying transformation into the role for Funny or Die's original 50-minute adaptation of The Art of the Deal right here.