George Miller May Be Producing 'Justice League'; 'Batman V Superman' Box Office Tracking Decently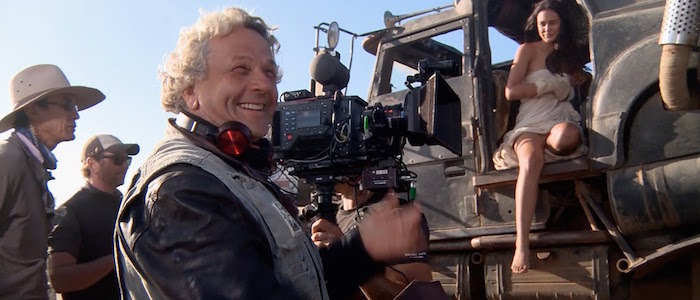 For any DC Comics fan out there who has been desperate to see Justice League on the big screen for awhile now, you probably know that Mad Max: Fury Road director George Miller tried to get the superhero ensemble off the ground years ago. The film would have featured Armie Hammer as Batman, Common as Green Lantern, and Adam Brody as the Flash, and a documentary will soon reveal more about it. Sadly, the project stalled because of the Writer's Guild strike at the time, and it never recovered.
However, a new tip seems to indicate that George Miller may get a chance at helping bring Justice League to theaters after all. Plus, find out what kind of box office numbers we can expect from the opening weekend for Batman v Superman: Dawn of Justice, and whether or not it'll be the success that Warner Bros. Pictures hopes that it will be.
First up, let's talk about a new rumor that says Warner Bros. Pictures has George Miller producing Justice League. According to a recent casting call (via ScreenCrush) for extras on Justice League, the film's credits list the expected producers Charles Roven and Deborah Snyder, but they also include George Miller. Could this be a mistake by a casting agency who doesn't have any additional accurate information, or is this the real deal? We may not know until the film starts shooting in April.
Recently, George Miller was rumored to be in the running to direct Man of Steel 2 (which he later said wasn't in the cards), as well as Justice League Dark. So there's always a chance that the studio was able to convince him to come on board this huge comic book property, knowing the wonders he worked on Mad Max: Fury Road, which took home a slew of Oscars last night (even though Best Director wasn't one of them).
This should just be considered a rumor for now, but if it turns out to be true, then Justice League should have no problem living up to fan expectations. However, that's assuming that Batman v Superman: Dawn of Justice lays strong enough groundwork to make a the superhero team-up work. We don't know how the film has turned out just yet, but we do know how it's tracking at the box office.
Tickets for Batman v Superman are on sale today, and Deadline reports the film is currently looking at snagging somewhere between $100-$140 million in its opening weekend. That's not a bad haul for a blockbusters at all, however, the film is apparently tracking a little less than the studio was initially expecting, especially for an Easter weekend. Those expectations put it below the March opening weekend record holder, The Hunger Games, which landed $152 million in its first weekend.
After advanced ticket sales are counted today, Warner Bros. will probably have a better idea of what kind of numbers they'll be looking at. Previously, Man of Steel took in $116 million in its opening weekend, but one would think that a movie with Batman and Superman fighting each other on the big screen for the first time should have no problem beating that. But since trailers and clips have been divisive among fans, it may not be as big of a hit as once thought.
Batman v Superman: Dawn of Justice arrives March 25 and Justice League: Part One arrives November 17, 2017.