'24: Legacy' Brings Jimmy Smits Back To The Government In Series Regular Role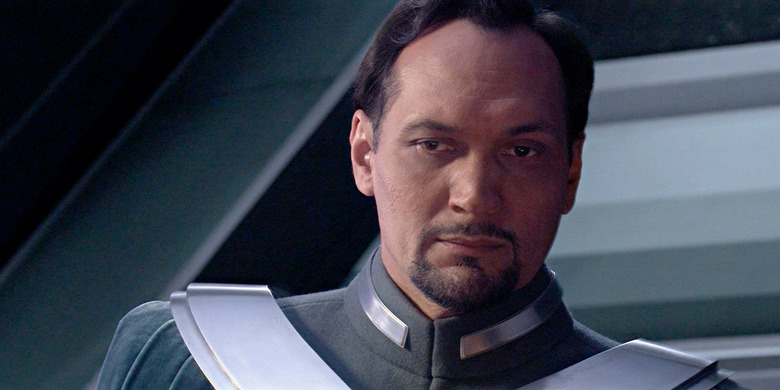 A decade ago, Jimmy Smits was the President of the United States of America on The West Wing, and now he's returning to government with a series regular role on 24: Legacy, the reboot of the original Fox action series that starred Kiefer Sutherland as Counter Terrorst Unit agent Jack Bauer. Get the details on who Smits will be playing in the 24 Legacy cast below, along with everything we know about the series so far.
For those just joining us, 24: Legacy seems to take place in the same universe as the original 24 series as Fox chairman and CEO Dana Walden has indicated, "There's a time jump, a new organization, a completely different story. It's a contemporary story about the potential to activate sleeper cells in the United States. There are nods in the pilot to prior CTU agents, but no ongoing characters."
There's no Jack Bauer this time, but Straight Outta Compton star Corey Hawkins has the new lead role as Eric Carter, a former Army Ranger who finds himself pulled back into action as his past comes looking for him. That's a very Jack Bauer-esque plotline, but that's what we've come to expect from 24 at this point. Carter is forced to turn to CTU for help keeping him safe and, of course, stopping a large-scale terrorist attack in the United States.
In addition, Miranda Otto (War of the Worlds, Lord of the Rings: The Two Towers) has taken the female lead as Rebecca Ingram, the blazing smart former head of CTU who is still struggling with second thoughts about having left the counter-terrorism agency. And now Otto's husband has been cast as that's the role Smits has taken.
THR reports Jimmy Smits will be playing John Donovan, a powerful U.S. Senator with higher political aspirations, who is married to Rebecca Ingram. Funnily enough, Smits' character will be running for president, and there's bound to be some actions he'll have to take that could help in his presidential run. If 24: Legacy is successful, we might even see him as the president in future seasons. You may remember that Smits was also a senator and adoptive father to a certain Star Wars character in the prequels.
Speaking of which, it should probably be addressed as to when 24: Legacy will be taking place. Even though each season of 24 took place over the span of 24 hours, there was a lot of time that passed between season, and you might be surprised to learn that several seasons of 24 took place in the distant future and not the present day of the time in which the episode aired.
Previously, executive producer Howard Gordon acknowledged that due to presidential terms and other indications of time passing, the seventh season of the show would technically have happened in 2017, not in 2009 when it aired. The eighth season flashes forward a year and a half from that point, and 24: Live Another Day took place four years after that. That means the end of the previous 24 franchise would've happened in the middle of 2022. So if more time has passed, we're looking at a series happening sometime in the mid-2020s.
However, the actual timeline in the series probably won't even be acknowledged, because that's just not how 24 rolls. But if there isn't some seriously advanced technology in this new season, like sentient androids, I'm going to be very disappointed.
24: Legacy is meant to span 12 episodes instead of the usual 24, so it probably won't take place in real time anymore, but much like 24: Live Another Day, will still take place over 24 hours. Production begins in March, but we'll have to wait and see when it will air on Fox.