'Guardians Of The Galaxy Vol. 2' Adds 'Sons Of Anarchy' Star Tommy Flanagan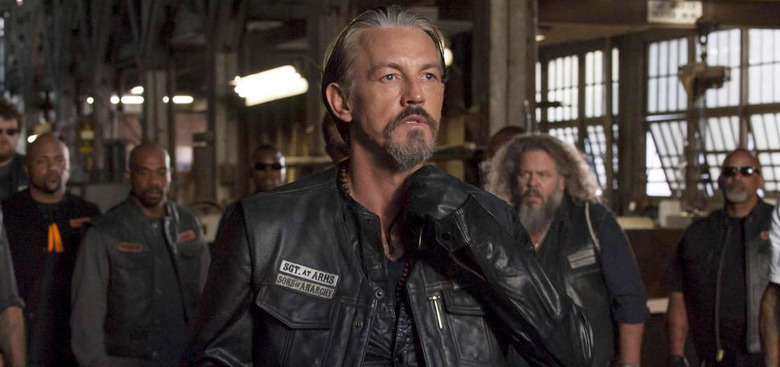 Just over a week ago, director James Gunn announced the beginning of production on Guardians of the Galaxy Vol. 2 with the first teaser image showing off our favorite ragtag team of criminals turned heroes. In addition to the return of Chris Pratt, Zoe Saldana, David Bautista, Bradley Cooper and Vin Diesel in the lead roles, new cast members such as Kurt Russell, Elizabeth Debicki, Pom Klementieff and Chris Sullivan were also confirmed. And now one more new name has been added to the mix.
Variety reports Sons of Anarchy star Tommy Flanagan has joined the Guardians of the Galaxy 2 cast And if you're thinking that he would make a solid addition to Yondu's Ravagers, you're exactly right. The man who played the intimidating Filip 'Chibs' Telford on Sons of Anarchy will be part of a group of Ravagers who have a bounty out on Rocket Raccoon, something that is said to create some conflict within the group.
That's the first bit of story details we've heard about Guardians of the Galaxy, other than the brief detail in the recent announcement that says the sequel continues the team's adventures as they unravel the mystery of Peter Quill's true parentage. And we already know that Kurt Russell is supposed to play Star-Lord's father, but we have no idea who that character will be, or why he left his son behind on Earth, only to send Yondu and his Ravagers to retrieve him.
Flanagan will undoubtedly fit in perfectly with the Ravagers team, especially after his turn in Sons of Anarchy. If you never watched the FX series, you might recognize him from a recent role in Gotham, or maybe previous film roles in Gladiator and Sin City. He's a solid character actor, and I'm interested to see what kind of trouble he causes for Rocket and probably Groot.
In addition to the aforementioned primary returning cast members, Michael Rooker Karen Gillan, Sean Gunn and Glenn Close will all be back as well. Though there hasn't been any word on John C. Reilly reprising his role from the first movie just yet.
James Gunn is back behind the camera for Guardians of the Galaxy Vol. 2, shooting in Atlanta right now, and set for release on May 5, 2017. That's a long time to wait, but surely it will be well worth it.