These New 'London Has Fallen' Clips Don't Feature Nearly Enough Head-Stabbings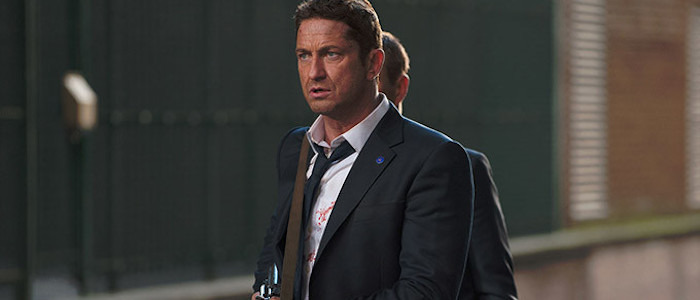 2013 saw the release of two "Terrorists Take Over the White House Movies" and Olympus Has Fallen was the winner in that particular showdown, outgrossing the glossier and far more expensive White House Down at the box office. Somehow, the trashy and often technically inept Gerard Butler joint is getting a sequel and the movie where Channing Tatum and Jamie Foxx have a limo chase on the White House lawn is not. I'm still a little sore about this.
And yet, I do appreciate the B-movie charms of the Olympus Has Fallen and especially enjoy how approximately 64% of the film consists of Butler's disgraced Secret Service agent wandering dark hallways and stabbing people in the head. There are more head-stabbings per minute in Olympus Has Fallen than another other action movie ever made, which makes the dearth of head-stabbings in these new batch of London Has Fallen clips rather disappointing.
As the title implies (and the trailers show), London Has Fallen moves the action across the pond, where Butler's secret service agent Mike Banning and Aaron Eckhart's President Benjamin Asher once again find themselves in the wrong place at the wrong time as terrorists decimate the city. Morgan Freeman and Melissa Leo are back to once again stand around a table and look really concerned as bad news is delivered to them on a big monitor. Angela Bassett also returns as the head of the Secret Service, having somehow not resigned in disgrace after the events of the first film.
The other clips aren't quite as dynamic. There's Butler and Bassett having a heart-to-heart where she agrees to be the godmother to his newborn child, and if we're going by action movie rules, that surely marks her for death, right? The other clip finds Morgan Freeman doing that thing where he's obviously not trying very hard and just wants to collect a paycheck, but can't help but lend gravitas to every line of dialogue simply because he's Morgan Freeman.
Director Babak Najafi has stepped in for Antoine Fuqua, but London Has Fallen looks like more of the same. The first of the new clips tells you everything you need to know – like with the first film, the low-rent action appears to be elevated by a genuine mean streak. There may not be any head-stabbings in this clip, but there is Butler executing a guy at point blank range as his wounded body dangles from a hole in a car window.
London Has Fallen opens on March 4.