Hollywood's Stunt Performers Protest For Their Own Oscar Category (And How Could You Say No?)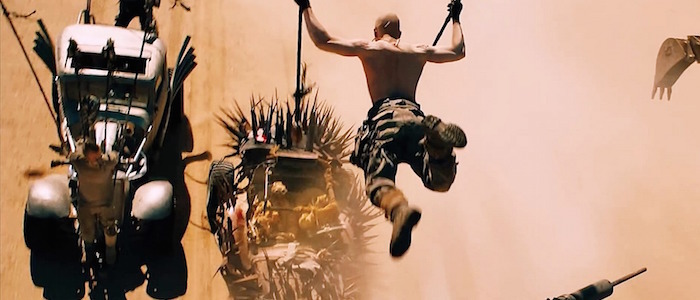 If you've ever looked over the list of categories at the Academy Awards and wondered why the American film industry's highest honor doesn't recognize stunt coordination, you're not alone. Stunt performers have been calling for recognition at the Oscars for over two decades and over 100 of them recently rallied at the offices of the Academy of Motion Picture Arts and Sciences to make their voices heard in demanding an Oscars stunt category.
Details on this story come to us courtesy of Deadline, who also have photos from the rally for those who want to take a look. They also have this quote from stuntman and Academy member Conrad Palmisano, whose credits include everything from 21 Jump Street to Sleepless in Seattle, who is none-too-happy that his corner of the film industry is ignored during awards season:
"It's an insult to our profession. We take the written page and breathe life into it. People love action; that's why people go to the movies. No disrespect, but who goes to the movies to see the hairstyles?"
Deadline's article also delves into why stunt coordination has been locked out of the Oscars and, as you probably guessed, it has to do with the organization's often arcane and labyrinthine rules. Fewer than twenty stunt coordinators and performers are active, voting members of the Academy and that's not enough people to form a category. There are two potential solutions: modify the rules so a smaller group can form a category or start inducting more stunt performers.
Either way, it's ridiculous that the men and women who put their lives on the line in the name of telling great cinematic stories (as well as those who work to guarantee their safety) are ignored come Oscar time. It's especially glaring in a year where a stunt-driven film like Mad Max: Fury Road is nominated for 10 Academy Awards, none of which will go to the men and women who literally risked life and limb to make the film's memorable set pieces happen. Like acting and editing and costume design, this is a very particular craft that deserves to be celebrated.
Just watch this classic scene from John Ford's Stagecoach and remember that stunt people have been breaking bones in the name of telling great stories since this medium's earliest days.
In a weird way, it's understandable why stunt people weren't recognized for so long. To say that a stunt person did the heavy lifting in an action scene would be to acknowledge that your expensive, handsome leading man wasn't actually pulling off his own onscreen heroics. But audiences are smarter now. They know that movie stars usually step aside and let men and women with nerves of steel take the literal fall for them on camera. It's time to start giving credit where credit is due.
Right now, stunt performers have collected 50,000 signatures on a petition demanding inclusion in the Academy Awards. Hopefully, the Academy takes notice.