'Alien: Covenant' Casts Billy Crudup In A "Key" Role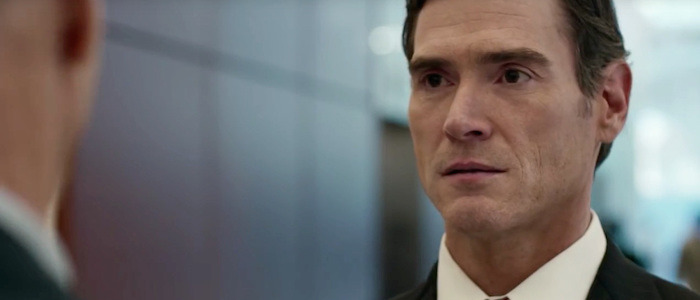 Just when you think Alien: Covenant has finished casting recognizable actors to get killed by Xenomorphs, Billy Crudup joins the ensemble. He's very much in line with everyone else director Ridley Scott has recruited to star in his Prometheus follow-up: a strong performer with a recognizable face who isn't so well-known that he overshadows the larger Alien franchise.
The news of Crudup's casting comes to us via Deadline, who say that Crudup is in "advanced negotiations" for a "key part" in the film. Naturally, details beyond that are currently unknown. The obvious guess is that he's playing a crew member of the Covenant, the colony ship that stumbles across a strange and hostile planet. You just know that Crudup would wear the hell out of a science fiction jumpsuit.
Although best known for his breakout role in Almost Famous, Crudup has been a dependable screen presence for his entire career. You surely remember him as the god-like superhero Dr. Manhattan in Watchmen, but he's also delivered memorable work in films like Big Fish, Public Enemies, and Mission: Impossible III. Last year, he was a key member of the Spotlight ensemble, a cast that rightfully earned its fair share of accolades.
Crudup joins a cast that already includes the likes of Michael Fassbender (reprising his role as the troublesome android David), Katherine Waterston (replacing Noomi Rapace as the heroic female lead), Demian Bichir (playing an unknown role), and Danny McBride (playing an unknown role who is surely an obnoxious stoner). This particular piece news arrives hot on the heels of Jussie Smollett, Amy Seimetz, Carmen Ejogo and Callie Hernandez joining the cast. Naturally, every single role remains top secret at this time, but we can safely assume that most of these new characters won't live to see the end credits roll.
What we do know is that Alien: Covenant will take place 10 years after Prometheus, will be the first in a "new trilogy" of Alien films, and will have an R-rating because what good is an Alien movie without a little viscera? Here's the official synopsis:
Ridley Scott returns to the universe he created in ALIEN with ALIEN: COVENANT, the second chapter in a prequel trilogy that began with PROMETHEUS — and connects directly to Scott's 1979 seminal work of science fiction. Bound for a remote planet on the far side of the galaxy, the crew of the colony ship Covenant discovers what they think is an uncharted paradise, but is actually a dark, dangerous world — whose sole inhabitant is the "synthetic" David (Michael Fassbender), survivor of the doomed Prometheus expedition.
Alien: Covenant begins film next month for an October 6, 2017 release date.