'The Purge: Election Year' TV Spot: You Must Purge To Keep Your Country Great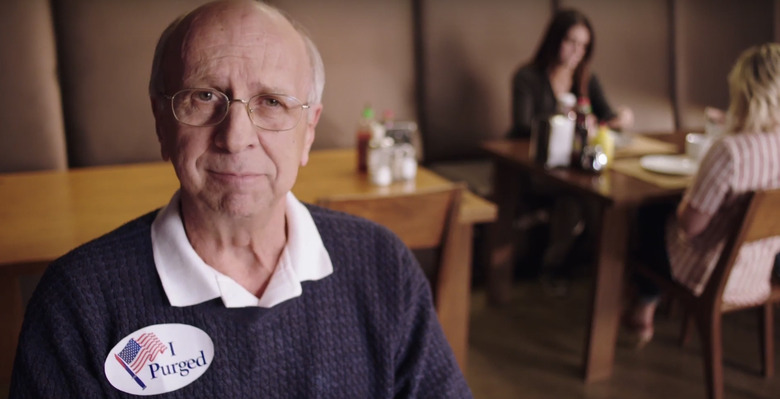 Even though it feels like it's been an election year for much longer than a couple months, this year is officially the year when we elect a new President of the United States of America. And while the craziness of the primaries unfolded last night with yet another political debate between potential presidential candidates, an all too appropriate TV spot debuted for this year's action thriller sequel The Purge: Election Year debuted, taking cues from the political ads that we all get sick of seeing.
Watch The Purge 3 TV spot after the jump.
The TV spot fits in perfectly with the election noise, so much that if you weren't paying close attention, you might just ignore it by thinking that it were a real political ad. You won't find any of the stars on the movie, just your average Americans supporting The Purge and all the good it does for our country. If you stay inside and don't brutally kill people, you're not doing your job as an American
However, as we've seen in the full trailer for The Purge sequel, the conflict this time comes between those in support of the annual 12-hour violence spree and those who think it's doing more harm than good. Therefore, it would be cool if we were able to see an opposing political ad talking about how terrible The Purge is for our country. There's plenty of time before the sequel hits theaters, so we'll see what happens.
Expanding the universe introduced in the hit franchise that electrified the culture and earned $200 million at the worldwide box office, Universal Pictures' The Purge: Election Year reveals the next terrifying chapter that occurs over 12 hours of annual lawlessness sanctioned by the New Founders of America to keep this country great.
It's been two years since Leo Barnes (Frank Grillo) stopped himself from a regrettable act of revenge on Purge Night. Now serving as head of security for Senator Charlie Roan (Elizabeth Mitchell), his mission is to protect her in a run for president and survive the annual ritual that targets the poor and innocent. But when a betrayal forces them onto the streets of D.C. on the one night when no help is available, they must stay alive until dawn...or both be sacrificed for their sins against the state.
The Purge: Election Year gets a prime summer holiday weekend release on July 1, 2014.