Stephen King's 'The Mist' Gets 10-Episode Order From Spike TV [UPDATED]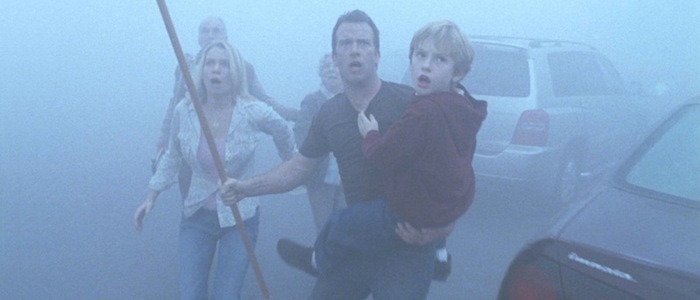 UPDATE: Spike has given a 10-episode order to The Mist, which will shoot this summer for a 2017 debut. Our original story from February 25, 2016 follows.
Last year, we heard that Dimension Television was working on a television adaptation of Stephen King's novella The Mist and then things went silent. Now, we've learned the Spike has officially ordered a pilot episode of the series, which is an interesting development for a number of reasons.
The news comes our way courtesy of Variety, and there's not much more to say as of yet. We know that Christian Torpe will executive produce, making this his first American project after years of working in his native Denmark. Last year's news said that Torpe wrote the script for the pilot, but there is no mention of that Variety's report.
The Mist will be Spike's first scripted pilot, a big deal for a network that usually concentrates on reality programing and reruns. And while the details of The Mist remains a big question mark, there's no denying the potential here...and there's no denying what Spike obviously wants out of this series.
Originally published as part of King's 1985 short story collection Skeleton Crew, The Mist takes place in a small town that has been overrun with a mysterious fog that contains an entire ecosystem of horrifying monsters. The bulk of the action takes place in a grocery store as the citizens barricade themselves from the horrors outside and slowly turn on each other. It's classic Stephen King – mean and terrifying, but ultimately insightful and humane.
Director Frank Darabont adapted The Mist into a film back in 2007 and while elements of it have not aged well, it remains an effective and grisly little chiller stuffed with imagination and unforgettable images. Darabont even changed King's original ending, replacing a hopeful ellipsis with a hopeless exclamation point.
Let's just say it: Spike obviously wants in on that The Walking Dead business. And can you blame them? AMC may have transformed into a network to watch on the back of Mad Men, but it became a real power player when it brought the long running horror comic series to the small screen. The set-up is similar enough: a group of weary survivors battle monsters and each other as they struggle to survive in a ruined world. King's story is open-ended enough to allow for all kinds of changes and extensions. The possibilities for serialization are endless.
Interestingly, Frank Darabont was the original showrunner on The Walking Dead, which is why the show is chock-full of The Mist veterans, including Jeffrey DeMunn, Melissa McBride, Laurie Holden, Juan Gabriel Pareja, Sam Witwer, and Tiffany Morgan.
Although most people who haven't cut the cord have access to Spike (it's included in most American cable packages), it's the kind of channel you put on the morning after you drank too much and don't want to focus too hard. It's entirely lacking in must-see TV. It doesn't have an ounce of the prestige viewers associate with HBO, AMC, Showtime, Starz, and even Cinemax. Could The Mist change that? Possibly, Maybe. I know I'm interested to see what they do here.
The Mist joins The Stand, It, Revival, and The Dark Tower as Stephen King novels and stories currently making they way through Hollywood development. Between those projects and Hulu's currently airing 11.22.63 miniseries, it remains an interesting time to be a King fan.