FX's 'Taboo' Trailer: Tom Hardy Is A Very Dangerous Man To Know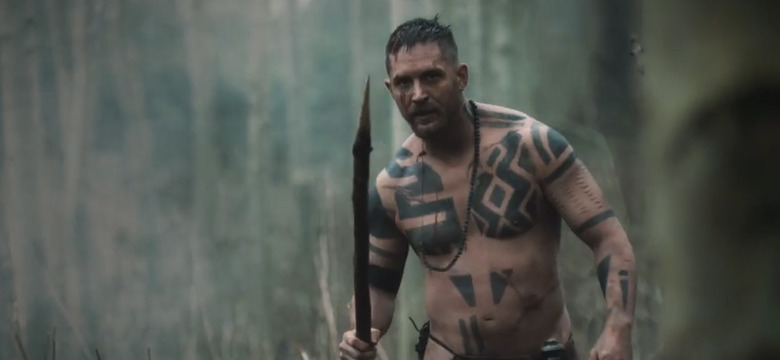 Even though he's quite the coveted movie star, Tom Hardy had no problem taking his talents back to television with the fantastic drama series Peaky Blinders after previously starring in small screen fare such as Oliver Twist and Meadowlands. Now Hardy is back on the flickering box with a new series at FX called Taboo that he executive produced himself along with Ridley Scott, not to mention coming up with the original story along with his father Chips Hardy and Locke writer Steven Knight.
Check out the first Taboo trailer after the jump.
Danish director Kristoffer Nyholm, best known for directing the original Scandinavian version of The Killing before it was imported and adapted for American audiences on AMC and Netflix, is at the helm of this gritty series, and it looks positively outstanding. Hardy's monologue in this trailer alone is enough to get me excited to see how this series turns out, not to mention the cast including Jonathan Pryce and character actor Michael Kelly.
In Taboo, Tom Hardy plays James Keziah Delaney, a rogue adventurer who returns to London in 1814 after spending 10 years in Africa, only to discover that he has been left a mysterious legacy by his father, who has been killed. Delaney refuses to sell his family's business to the East India Company, and opts to build his own trading and shipping empire instead, which thrusts him into the middle of the War of 1812, between the U.S. and Britain. And it looks like there's plenty of people who want him to fail.
The eight-episode series feels almost like a Gangs of New York series set in London, but with an even more intriguing lead character for the audience to follow. Tom Hardy is like Daniel Day-Lewis and Leonardo DiCaprio's character all rolled into one, and that's fantastic.
Set in 1814, Taboo follows James Keziah Delaney, a man who has been to the ends of the earth and comes back irrevocably changed. Believed to be long dead, he returns home to London from Africa to inherit what is left of his father's shipping empire and rebuild a life for himself. But his father's legacy is a poisoned chalice, and with enemies lurking in every dark corner, James must navigate increasingly complex territories to avoid his own death sentence. Encircled by conspiracy, murder, and betrayal, a dark family mystery unfolds in a combustible tale of love and treachery.
The series doesn't have a release date yet, but is expected to air sometime in 2017.