'Precious Cargo' Trailer: In Which Bruce Willis Gets Foiled By That Dastardly Mark-Paul Gosselaar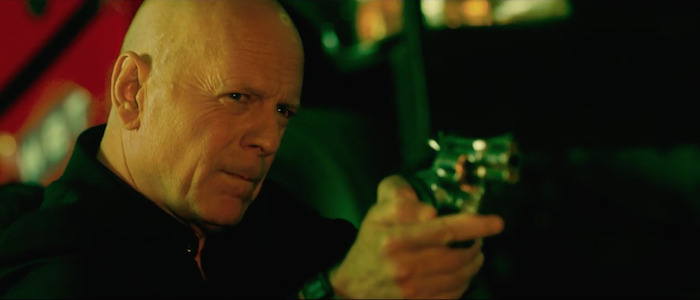 It's tough to pinpoint exactly when Bruce Willis stopped giving a s***, mainly because he's still capable of great work. His tremendous performance in Rian Johnson's Looper goes a long way to helping cancel out those past few Die Hard sequels, although it's a bit harder to forgive his phoned-in paycheck jobs in movies like Vice and Fire With Fire. Those last two titles don't ring a bell? Exactly.
Willis plays the villain in Precious Cargo and if the trailer is any indication, it's another quick, in-and-out gig in a project that otherwise looks like it somehow escaped the DTV realm. After all, the star of gigantic hits like The Sixth Sense and Armageddon is credited beneath Mark-Paul Gosselaar, who has apparently decided to try out this whole action hero thing.
There is nothing offensively bad about the Precious Cargo trailer – it just looks like a hopelessly generic action film that probably would have starred Michael Dudikoff in another time and place. You've seen this movie before: a good guy thief squares off against a bad guy thief over a the biggest score of their careers. Wisecracks are muttered, gunfire is exchanged, explosions occur at just the right moment, etc. You know the drill.
The weirdest thing about the Precious Cargo trailer is seeing Gosselaar, a television veteran best known for playing Zach Morris on Saved by the Bell and Detective John Clark on NYPD Blue, headlining a movie like this. He's not a bad actor, but he's not the kind of guy you instantly think about when you envision a dashing thief. We'll give him this much: he does give off some entertaining B-movie vibes in this trailer. That's more than we can say for Willis, who seems to be wondering what he'll be having for lunch in every shot.
Precious Cargo is the feature debut of director Max Adams and I hope it's good. I really do. There's nothing wrong with a boilerplate action movie if the individual elements are well-executed. This trailer just doesn't offer much to love for anyone who isn't a Willis completionist (the saddest fandom of them all at this point).
Here is the official synopsis for the film:
After a botched heist, Eddie (Bruce Willis), a murderous crime boss, hunts down the seductive thief Karen (Claire Forlani) who failed him. In order to win back Eddie's trust, Karen recruits her ex-lover and premier thief Jack (Mark-Paul Gosselaar) to steal a cargo of rare precious gems. But when the job goes down, allegiances are betrayed and lines are crossed as Jack, Karen, and Eddie face off in a fateful showdown.
Precious Cargo opens on April 22, 2016. You can check out the poster below.