'Scary Stories To Tell In The Dark' Hunts Down A Few New Writers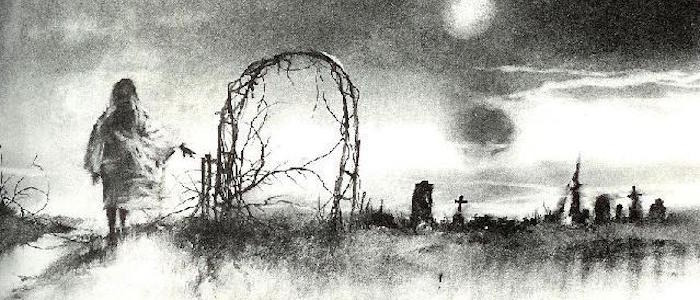 You may love a lot of movies and books and games, but you probably only need one hand to count the pieces of art and culture that slammed into your brain with the force of a rogue asteroid and forever shaped your tastes. Scary Stories to Tell in the Dark and its sequels, written by Alvin Schwartz and illustrated by Stephen Gammell, are a key component in my personal make-up. These collections of creepy folklore, urban legends, and unsettling horror tales remain untouchable today – rarely has "kid-friendly" horror literature refused to pull its punches to this extent. These stories still bounce around inside my head every day, their macabre illustrations permanently branded upon my brain.
So yeah, I'm pretty excited about a twisted genius like director Guillermo del Toro taking this series to the big screen, and the fact that two new writers have been hired to work on the screenplay suggests that this project may actually come to fruition.
THR reports that Dan Hageman and Kevin Hageman have been brought on to work on the adaptation, which is being developed by del Toro and producers Jason F. Brown, Sean Daniel and Elizabeth Grave for CBS Films. The Hageman's previous credits include story credit on Hotel Transylvania and The LEGO Movie, as well as 52 episodes of Ninjago: Masters of Spinjitzu. They've also worked on Trollhunters, the animated series del Toro is producing for Netflix, which is presumably how they got their foot in the door for this gig.
They are the latest writers to take a stab at this material, following Saw franchise screenwriters Marcus Dunstan and Patrick Melton and Charlie and the Chocolate Factory scribe John August, who was brought on board back in 2014. But with del Toro now shepherding this project forward (whether or not he ends up directing the film is the big question right now), it looks like some fresh blood was needed.
What does a Scary Stories to Tell in the Dark movie look like? The original three books are short story collections, and they would provide some tremendous material for an anthology film that tells three or four separate tales of terror. However, it's more likely that this film will follow the Goosebumps path and find a way to merge the series' most iconic stories and images into a single narrative.
And while the 30th anniversary edition of the original book blasphemously replaced Gammell's terrifying art with safer, gentler pictures, you can expect the film version to go old school. After all, del Toro was happy to pose for a picture with several pieces of Gammell's original art when he first joined the film, so you know where his interests and loyalties lie.
The specific plans for Scary Stories to Tell in the Dark remain unknown (there is no planned release date yet), but with del Toro officially no longer directing Pacific Rim 2, the chances of him helming this movie just spiked a little.