HBO's 'Westworld' Is Either Arriving This Summer Or Getting Pushed To 2017, So Who Knows?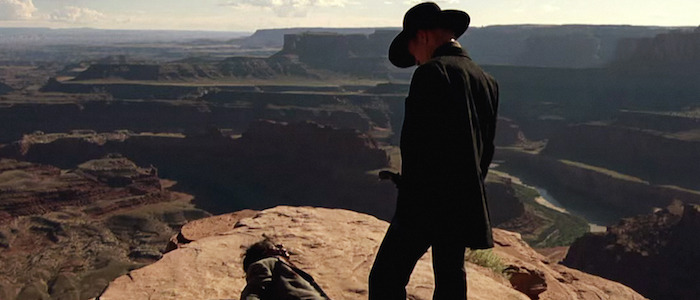 Sometimes, you just have to take a step back and just wait for the debris to settle. That's how I feel about HBO's Westworld, which has been the subject of many weird stories and headlines over the past year. Depending on the given moment, Jonathan Nolan's upcoming science fiction series is a masterwork or a disaster, the next feather in the network's cap or a misfire. The show's troubled development has been well-documented enough that you have to wonder what is actually happening behind closed doors.
And that brings us to today's two Westworld stories, both of which are at odds with one another. In one corner, you have a report that says the series is set to premiere this summer. In the other corner, you have a story that suggests HBO will actually delay the series until 2017. So there you go.
The first story comes from JoBlo and it is the far more optimistic of the two articles. According to their sources, HBO loves the show despite the various delays and production hiccups and wants to launch the series this summer, possibly overlapping its first few episodes with Game of Thrones season 6 to help build an audience. After all, if you're already watching the fantasy series with the dragons and the ice zombies, why not stick around for the hard science fiction show about the theme park filled with robot cowboys? If there is truth to this report, we can expect to see Westworld arrive in June.
However, The Hollywood Reporter published an article less than 24 hours later that paints a very different picture the show's current situation. Although the larger report is about all of HBO's current crises (and there are a whole bunch them and it's fascinating), a few paragraphs are devoted to the chaos surrounding Westworld and the behind-the-scenes tension between Nolan and the network. Here is one particularly juicy paragraph:
Late last year, HBO stopped work on the pricey J.J. Abrams-produced Westworld, based on a popular sci-fi book series and with an enormous cast including Anthony Hopkins and Ed Harris. Initially produced with Warners' TV production arm, HBO took back control after what sources call clashes with creator Jonathan Nolan, whose TV credit is the WBTV-produced Person of Interest on CBS. (HBO usually makes its own programming but works with Warners on The Leftovers.) Nolan is said to be every bit as controlling as his filmmaker brother Chris. Sources say cuts came in slowly, scripts started running behind, and it became apparent that episodes already shot needed tweaks requiring additional filming. Since stopping production, HBO persuaded Nolan to "put aside his ego," one source says, and has brought in two additional producers and two more writers.
THR's article notes that HBO might have to push Westworld to 2017, which is pretty rough for a series that was originally intended to premiere in 2015.
The big question right now is whether or not all of this hubbub will translate into a show that is good and worth watching. After all, HBO is no stranger to overseeing great shows as they endure painful births. David Milch's unique flavor of chaos helped make Deadwood a masterpiece. The original Game of Thrones pilot was a disaster before it was completely retooled and almost entirely reshot. Westworld could very well be incredible television.
But will it be incredible television that you get to see in 2016 or 2017? Who knows. I'm taking a step back now.