'Crouching Tiger Hidden Dragon: Sword Of Destiny' Trailer: Netflix Is Pushing This One Hard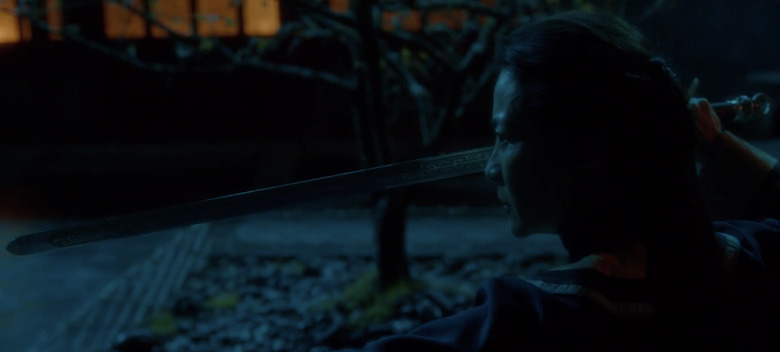 For some reason, Netflix doesn't like to advertise their movies as far in advance as most movie studios. That's why over the past three months we've gotten a new trailer each month. Maybe they've figured out that the audience remembers the movie is coming to Netflix if it's advertised closer to the streaming date than if they spread out the trailers. We don't know. But we do know that they're pushing Crouching Tiger, Hidden Dragon: Sword of Destiny really hard lately, including yet another trailer showing off all the high-flying, flipping swordplay and choreography.
Watch the latest, and presumably final, Crouching Tiger Hidden Dragon 2 trailer below.
The international appeal seems to be the only reason Netflix decided to make this happen. Because there doesn't seem to be anything special about it at all. The story is derivative, the acting is melodramatic, and not even the action feels like it's going to redeem all of those shortcomings. While late sequels like Dumb & Dumber To and Zoolander 2 has nostalgia and novelty going for, them, I don't think anyone was really clamoring for a Crouching Tiger, Hidden Dragon sequel.
If you you need a little more footage before you really make a decision about whether or not this will be a good Netflix and chill option, you can watch the previous full trailer right here, or the more ominous teaser trailer right here. This looks like one I won't really go out of my way to see anytime soon.
Crouching Tiger, Hidden Dragon: Sword of Destiny also stars Harry Shum Jr. (Glee), Jason Scott Lee (Seventh Son), Roger Yuan (Bulletproof Monk), Eugenia Yuan (Revenge of the Green Dragons) and newcomer Natasha Liu Bordizzo, and it hits Netflix and select IMAX screens on February 26th, 2016.
Crouching Tiger, Hidden Dragon: Sword of Destiny tells an epic story of lost love, young love, a legendary sword and one last opportunity at redemption, set against breathtaking action in an epic martial arts battle between good and evil that will decide the fate of the Martial World.
Directed by the renowned martial arts choreographer (The Matrix Trilogy and Kill Bill 1& 2) and director (Tai Chi Master) Yuen Wo-Ping, Crouching Tiger, Hidden Dragon: Sword of Destiny stars Michelle Yeoh (Crouching Tiger, Hidden Dragon, The Lady) as Yu Shu-Lien and Donnie Yen (Ip Man 1&2, Monkey King 3D) as Silent Wolf.
Based on the acclaimed novel, Iron Knight, Silver Vase, by Wang Dulu (book 5 in the Crane-Iron Pentalogy) and written by John Fusco (Marco Polo) the new film is produced by Harvey Weinstein (Academy Award winner – The King's Speech, The Artist) and Peter Berg (Emmy Award winner – Friday Night Lights; Lone Survivor, Hancock) and Sarah Aubrey (Friday Night Lights; Lone Survivor, Hancock) and executive produced by Morten Tyldum (Headhunters, The Imitation Game), Ralph Winter (X-Men franchise), Anthony Wong and Bey Logan (The Medallion).