'Daredevil' Season 2 Early Reactions: Meet The Same Show, Same As The Old Show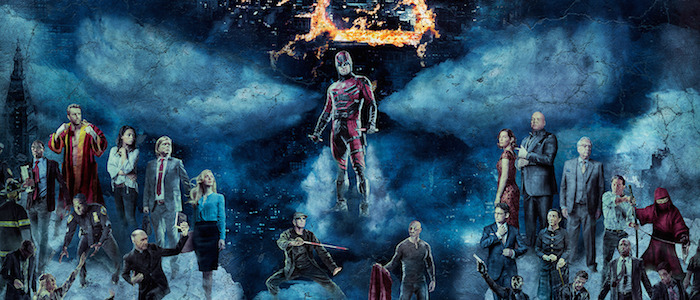 The first season of Daredevil fluctuated between wonderful and dull on an episode-by-episode basis, with thrilling subplots and characters butting up against stuff that simple didn't work at all. The result was a totally watchable mixed bag, a series with a clearly defined identity and a (mostly) killer cast that sagged here and there, spending a few too many episodes spinning its wheels. But hey, that's why the television gods invented seconds seasons, right? Show us a series that was perfect from moment one and we'll ask you to pick something other than Friday Night Lights.
Anyway, Daredevil season 2 arrives in less than a month and the reviews have already started to trickle in. Like the first season, the notices so far have been very positive. But also like the first season, everyone seems to agree that there are still nits to be picked. It sounds like we're getting more of the same, for better and worse.
Variety's mostly positive review says that the new season takes a few episodes to find its feet (there was a change in the show's leadership, after all), but once it gets going, it really gets going:
Binge viewing becomes the second season of "Daredevil." After a mostly top-notch debut on Netflix, Marvel's Man Without Fear begins season two on an uneven note, occasionally feeling as if he's taken a detour from dark and gritty into the realm of Sam Peckinpah movies, complete with slow-motion bullets and blood sprays. Stick with it, though, and the show blossoms, featuring a few terrific action sequences while introducing into this grim world seminal characters the Punisher and Elektra – both mostly victimized by earlier feature adaptations. So far, the Marvel/Netflix collaboration has brought a nifty dimension to both parties.
Although Den of Geek's review has its fair share of quibbles (it seems that season 2 shares many of the first season's flaws), they are ultimately very positive on the whole thing. Heck, they even shower Daredevil's controversial-among-nerds costume with praise:
Are you worried that a red-costumed Daredevil would somehow detract from the street level vigilante justice of season one? Don't be! This is the most effective and practical superhero costume I've yet seen in live action. Daredevil moves better than any big 

screen 

Batman has managed to, and the attention to detail in the action sequences is all in place. It even looks like Daredevil's fighting style has evolved to account for his heavier, more protective gear. Those fight scenes are every bit as spectacular as you would hope (although one, clearly an attempt to one-up the incredible corridor fight from season one, feels a little self-conscious in its intentions...it's still damn cool, though).
Each review so far has nice things to say about Jon Bernthal's take on Frank Castle (otherwise known as The Punisher), but everyone saw that coming – that casting is nothing short of perfect. The bigger question mark has always been Elodie Yung's Elektra and Nerd Repository makes it sound like she more than makes up for the lousy version Jennifer Garner on the big screen played so many years ago:
Season 2 moves along at a quicker pace than Season 1, and the introduction to iconic characters like The Punisher and Elektra (Élodie Yung) really spice up the early episodes. Speaking of the lady in red, fans should be quite pleased with this extremely faithful incarnation of the character, as Yung is visually ripped from the panels of a Frank Miller comic. She looks the part and plays it with confidence, seduction and dangerous intrigue. Oh, and she can kick ass too. Naturally. There's real, palpable chemistry between Yung and Cox, and whenever they're onscreen together there's an air of danger along with a feeling of a loss of control – for both characters.
And while he hasn't published a full review yet, Steven Weintraub of Collider shared his opinion on Twitter:
Reaction after watching the first four episodes of DAREDEVIL season 2: pic.twitter.com/oWjH3NS0ZZ

— Steven Weintraub (@colliderfrosty) February 24, 2016
Daredevil season 2 arrives on Netflix on March 18, 2016. You'll be able to read our full breakdown of the season (Jessica Jones-style) a few days after that.