'The Light Between Oceans' Trailer: Michael Fassbender & Alicia Vikander Find A Baby In The Sea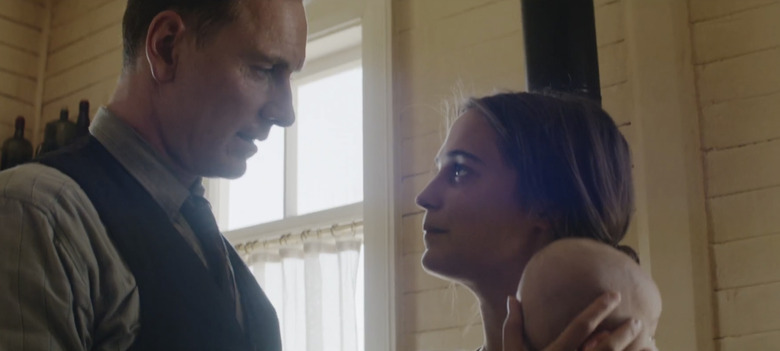 We may receive a commission on purchases made from links.
After delivering the extremely bleak and poignant dramas The Place Beyond the Pines and Blue Valentine, director Derek Cianfrance is back to tug at your heartstrings again, this time with an adaptation of M.L. Stedman's novel The Light Between Oceans.
The drama stars Michael Fassbender as a lighthouse keeper, living with his wife (Alicia Vikander) on a remote island in Australia. One day a tiny boat appears near their shore with a baby girl inside of it, leaving them to raise her as their own daughter. But things get complicated when happenstance brings the child's true mother (Rachel Weisz) into their life. As you can guess, a moral quandary presents itself, and thus begins the drama.
Watch The Light Between Oceans trailer after the jump.
Even though this looks like quite the powerful drama, I can't help but be reminded of the movie The Deep End of the Ocean from 1999. The film followed a family, led by Michelle Pfeiffer and Treat Williams, who lose their youngest son due to kidnapping. But nine years later, after moving to a new neighborhood, they find their son living with a new family. Basically, it's almost like the opposing side of the story you see in The Light Between Oceans, just in another time and place. Both titles have "ocean" in them and are based on books. If these movies were made in the same year, we'd have ourselves a good old Hollywood stand-off.
Still, this film does look like it will pack a punch, especially with cinematography by Adam Arkapaw, fresh off working with Justin Kurzel and Michael Fassbender on Macbeth. There's a chance we might see this movie hit the festival circuit at Cannes before hitting theaters this fall, but we won't know for a couple months or so.
From acclaimed director Derek Cianfrance, (Blue Valentine, A Place Beyond the Pines), and based on the extraordinary best-selling novel from M.L Stedman, THE LIGHT BETWEEN OCEANS, is a beautiful yet heart-breaking story of love and sacrifice.
On a remote Australian island in the years following World War I, lighthouse keeper Tom Sherbourne (Michael Fassbender) and his wife, Isabel (Alicia Vikander), discover a boat washed ashore carrying a dead man and a two-month old baby. Rescuing the infant, they make the decision to raise her as their own but the consequences of their choice prove to be devastating.
The Light Between Oceans opens on September 2.