Hold Your Fire: Jon Bernthal's The Punisher Isn't Getting A Spin-Off (Yet)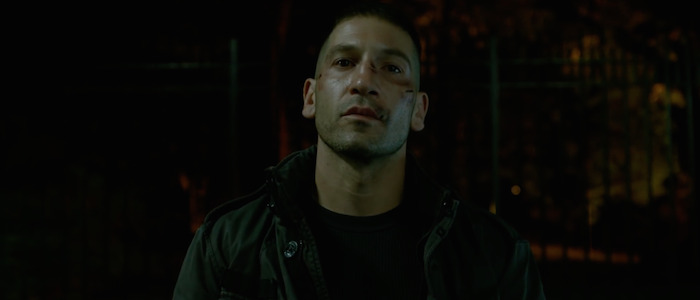 Last month, rumors emerged that Jon Bernthal's Frank Castle, who is set to debut in the second season of Daredevil, would be getting his own spin-off series on Netflix. And there was much rejoicing, as The Punisher is the exact kind of comic book character who could thrive in the more intimate (and slightly cheaper) television corner of the Marvel Cinematic Universe.
But that report may have been a little premature. In a new interview, Marvel Television executive vice president Jeph Loeb says that we need to hold our horses and cool our jets. If there's a Punisher spin-off in the works, he doesn't know about it. Or he's very good about saying he doesn't know anything about it.
Loeb spoke about the subject with Digital Spy, where he indicates that a spin-off isn't impossible, but says the announcement was premature:
"I think that's something that people are speculating on, as opposed to something that's actually happening. It's certainly our hope that any of our characters will be embraced and that people want to see more of them."
This wouldn't be the first time that someone involved in a popular superhero property has lied through his teeth about plans that were already in the works, but we'll take his word at face value right now. But can you blame fandom for being interested in Bernthal's take on the Marvel universe's disturbed, vengeful vigilante? We're going into Daredevil season two with mixed feelings (season one started strong and ended strong while seriously sagging in the middle), but if the trailer is any indication, Bernthal's Frank Castle looks like he could be a standout character. Vincent D'Onofrio stole season one right out from under the rest of the cast and it looks like it may happen again.
This isn't the first time Loeb has tried to shut down rumors of a Punisher spin-off series. He tip-toed around the subject while speaking with our own Fred Topel last month:
"Look, I'm never going to discourage a network from looking at one of our characters and encouraging us to do more. That's my job, but it's certainly not how we enter the arena. We go into the arena to tell a story. If we are lucky enough that through the writing, through the direction, through the actor that people want to see more of that person, terrific. That's certainly not the beginning and the end goal. The beginning goal is always: what is the best 13 episodes of Daredevil season two?"
Anyway, Loeb also told Digital Spy that additional seasons are not a sure thing when it comes to Marvel Netflix series (although it certainly helps that they have "Marvel" above the title):
"When they announced that Jessica Jones was getting a second season, every single report said, 'It should come as a surprise to no one that Jessica Jones has received a second season order.' I'm the guy going, 'Well, it was a surprise to me!' It isn't a given in television. The fact that we get to continue telling stories with these characters speaks a lot about the quality of the storytelling and the acting and the writing. We are telling the best stories that we can at Netflix, and they seem to be responding to it."
Daredevil season two drops on Netflix on March 18.