'Baywatch' First Look: You'll Want Dwayne Johnson And Zac Efron To Save Your Life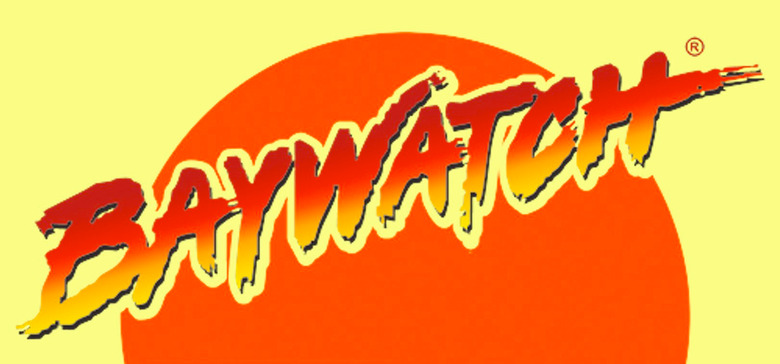 Since the main reason for the popularity of Baywatch back in the 90s was the slow-motion running of Pamela Anderson and the rest of her lifeguard crew, you would think that the first look from the forthcoming film adaptation would employ the same tactics. But this is 2016, and the big stars of the Baywatch movie are Dwayne Johnson and Zac Efron. They're not doing any slow-motion running, and they're not even shirtless. But this Baywatch first look photo will definitely have you wanting them to give you mouth-to-mouth resuscitation, regardless of your sexual preference.
Here's the photo Dwayne Johnson posted to Instagram yesterday:
EXCLUSIVE FIRST LOOK: #BAYWATCH Day 1. My character "Mitch Buchannon" just gave @zacefron's character "Matt Brody" the all important beach speech about what it means to have manly "Alpha balls". Zac's ad-libbed responses were brilliant! Talented and great dude. World get ready to have some fun, 'cause the beach will never be the same again. #OnSet #BAYWATCH #Day1 #AlphaBalls #NowWhoNeedsMouthToMouth?????
A photo posted by therock (@therock) on
As you can see, the Baywatch uniforms have been changed up a bit, adding a little blue to go along with the signature red. And even though Johnson and Efron both have their Under Armour shirts on, you can see that they're in peak physical shape for saving beach goers.
In addition, Johnson's post gives us a little more information on the movie. We already knew that The Rock was playing Mitch Buchannon, the character originated by David Hasselhoff, but this post reveals that Efron is playing Matt Brody, the role played by David Charvet in the original series. Plus, we get a tease of one of the scenes, with just a taste of what is supposed to be R-rated comedy.
It's good to hear that there's already improvising on the set, because Efron proved that he can be just as funny as some of today's biggest comedy stars by holding his own with Seth Rogen in Neighbors, which Efron will do again in this summer's comedy sequel Neighbors 2: Sorority Rising.
As for Johnson, we already know that he has a surprisingly fantastic gift for comedy. This year we'll get to see how he stacks up against pint-sized comedian Kevin Hart in Central Intelligence. Since the latter is a talent that I don't enjoy all that much, for me, this will be a test to see if Dwayne Johnson can make up for the fact that Kevin Hart just gets on my nerves. I recognize and respect that he's a successful, but he's just not my cup of tea.
As for the rest of the Baywatch cast, it includes Alexandra Daddario (San Andreas), Ilfenesh Hadera (Billions), model Kelly Rohrbach, Priyanka Chopra (Quantico) and Jon Bass (Jane Wants a Boyfriend). At the helm of the film is Horrible Bosses director Seth Gordon working from a recent draft of the script from Damian Shannon and Mark Swift, the duo behind the 2009 reboot of Friday the 13th and Freddy vs Jason.
Baywatch hits the beach and the big screen on May 19, 2017.