'Alien: Covenant' Casts 'The Hateful Eight' Star Demián Bichir, Presumably So He Can Die Horribly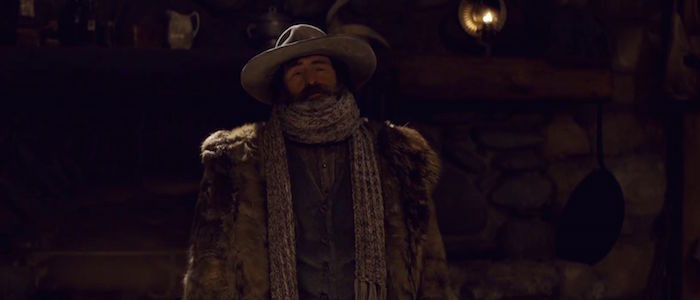 You've got to give Ridley Scott credit – he is second to none when it comes to rounding up impressive actors to torment in his films. 2012's Alien prequel Prometheus may have received mixed notices when it hit theaters, but its cast cannot be denied. Not every filmmaker can wrangle Charlize Theron and Michael Fassbender and Idris Elba and Guy Pearce and Patrick Wilson into one movie, and that's before you get to the less famous but impressive performers, like Logan Marshall-Green and Sean Harris.
Alien: Covenant looks to continue the trend of Scott leaving strong actors to the slaughter. Demián Bichir, last seen stealing scenes from beloved movie stars in Quentin Tarantino's The Hateful Eight, has joined the cast, which means we can probably look forward to seeing his bloody death scene in 2017.Deadline reported Bichir's casting and, as you probably guessed, the details are currently under lock and key. He joins an eclectic cast that already includes the returning Michael Fassbender (once again playing the morally slippery android David), the wonderful Katherine Waterston (who's so damn good in Paul Thomas Anderson's Inherent Vice), and, uh, Danny McBride (whose presence in this kind of movie is so left field that it can't help but feel brilliant). Interestingly, Deadline reports that the cast also includes Noomi Rapace, but previous reports have indicated that her Dr. Elizabeth Shaw won't be back for round two, despite Prometheus' cliffhanger ending.
Bichir is not especially well known in the United States, but he's a major actor in Mexico with dozens of credits to his name. However, he played regular roles on shows like Weeds and The Bridge, as well as roles in The Heat and Savages. He also memorably played Fidel Castro in Stephen Soderbergh's two-part Che.
Although Alien: Covenant is technically the sequel to Prometheus (which makes it the second prequel to the original 1979 Alien), it's starting to feel like a bit of a soft reboot, taking place enough time after the previous film for some serious course correction. Naturally, it will also be the first in a new trilogy, because films aren't allowed to exist by themselves anymore. Ridley Scott himself promises an R-rating, because the last thing we need is the Alien series putting on kids' gloves again. Remember Alien vs. Predator? Of course you don't. It never happened. Mass group hallucination. Gas leak. Very tragic. A bunch of people died.
However, we do have this synopsis:
Ridley Scott returns to the universe he created in ALIEN with ALIEN: COVENANT, the second chapter in a prequel trilogy that began with PROMETHEUS — and connects directly to Scott's 1979 seminal work of science fiction. Bound for a remote planet on the far side of the galaxy, the crew of the colony ship Covenant discovers what they think is an uncharted paradise, but is actually a dark, dangerous world — whose sole inhabitant is the "synthetic" David (Michael Fassbender), survivor of the doomed Prometheus expedition.
Alien: Covenant opens on October 6, 2016. We don't know about you, but I think Demián Bichir looks like he would make one helluva spaceship captain. Especially if he has a stoner pilot played by Danny McBride.