HBO Picks Up Gillian Flynn Drama 'Sharp Objects' Starring Amy Adams [UPDATED]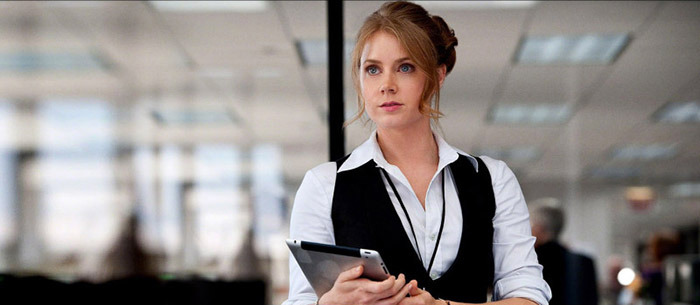 We may receive a commission on purchases made from links.
UPDATE: Deadline reports today that HBO has given Sharp Objects an eight-episode straight-to-series order, with Amy Adams still set for the lead. Jean-Marc Vallée will direct and Gillian Flynn and Marti Noxon are writing. Original story from February 21, 2016 follows.
Following in the footsteps of Daniel Craig heading to the small screen for an adaptation of Purity, an Oscar-nominated actress is heading to television for a series project. The Fighter and Man of Steel star Amy Adams has signed on to star in an adaptation of Sharp Objects, the novel of the same name from Gone Girl author Gillian Flynn. Find out who's directing the Sharp Objects TV series adaptation below.
For those who aren't familiar with Sharp Objects, here's the official synopsis of the 2006 book:
Fresh from a brief stay at a psych hospital, reporter Camille Preaker faces a troubling assignment: she must return to her tiny hometown to cover the murders of two preteen girls. For years, Camille has hardly spoken to her neurotic, hypochondriac mother or to the half-sister she barely knows: a beautiful thirteen-year-old with an eerie grip on the town. Now, installed in her old bedroom in her family's Victorian mansion, Camille finds herself identifying with the young victims—a bit too strongly. Dogged by her own demons, she must unravel the psychological puzzle of her own past if she wants to get the story—and survive this homecoming.
The book was picked up five years ago by Jason Blum and Blumhouse Productions, long before Gone Girl was a hit movie. Back in the summer of 2014 the series made some progress by hiring Buffy the Vampire Slayer writer Marti Noxon to script the adaptation as well as acting as showrunner and executive producing along with Blum.
As for directing, THR reports that responsibility falls upon Dallas Buyers Club and Wild director Jean-Marc Vallee, and that's the addition that really has my interest in the project now. Wild was my favorite movie of 2014, and teaming Vallee with an actress like Amy Adams sounds like an incredible prospect, especially for a TV series.
Landing an actress like Adams for a project like this is huge, and it just goes to show you how much television is thriving to get a big name actress like that for a TV series. More and more TV is becoming an even playing field, at least out of network television, and it's really giving feature filmmaking a run for its money when it comes to quality storytelling.
As of now the series is still being shopped around to various cable and streaming outlets by Blumhouse and Entertainment One, but with this kind of talent on board, it shouldn't have any problem finding a place to call home.