POTD: 'Star Wars: Episode VIII' Gets A Strangely Adorable Working Title Logo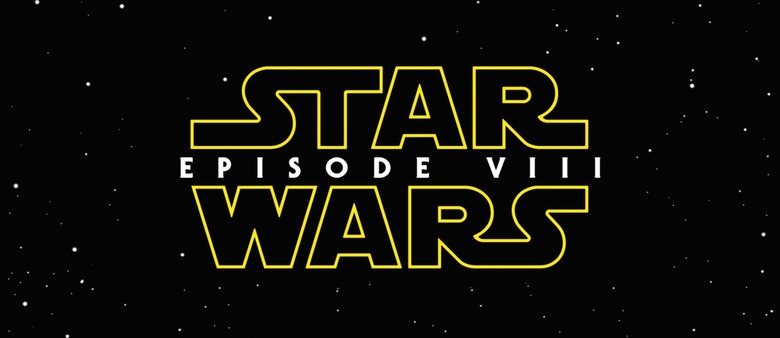 Just earlier this week, the official announcement of production revealed director Rian Johnson hard at work on the set of Star Wars: Episode VIII with Mark Hamill and Daisy Ridley in a familiar location from the end of Star Wars: The Force Awakens. In addition, new cast members were confirmed with Benicio del Toro, Laura Dern and Kelly Marie Tran being named as part of the film. And with production in full swing, we have another look behind the scenes, this one revealing a surprisingly adorable working title logo for the Star Wars sequel.
Here's the Star Wars Episode VIII working title logo as revealed by Carrie Fisher:
Y🅾⛎🖐🏽🔔🇬🇧®🅰♑️🌀❔❕🤐 pic.twitter.com/Y3eyMSb48z

— Carrie Fisher (@carrieffisher) February 19, 2016
As you can see, the on-set title for the film is Space Bear: Episode VIII, complete with a little panda bear emoji replacing one of the letters in the title. I can't be sure, but when you zoom in, it looks like the panda might be wearing a headwrap not dissimilar from the one Rey wore in The Force Awakens. That likely means nothing in the grand scheme of things as far as hints about the new movie are concerned, but it's just a cute little detail.
We have no idea where that title came from, but the fake title was discovered as far back as 2014 and confirmed back in January. Star Wars: The Force Awakens had the working title of Foodles, though we're not sure where the inspiration for that fake title came from, and the same can be said for Space Bear as well.
Speaking of which, it seems strange that the logo has been designed to look like a Star Wars title, defeating the purpose of the decoy title to begin with. But presumably, Space Bear (without the Episode VIII title) is how the movie is referred to outside of the set to confuse those who don't know what the movie really is. After all, if you're close enough the Star Wars: Episode VIII set to see this on a chair, then you probably already know it's a Star Wars movie set.
Also, for those curious, that adorable dog is Carrie Fisher's pet bulldog Gary, and he has his own custom action figure:
New @starwars action figure acquired: @carrieffisher's dog Gary ☺️🐶 https://t.co/YiLkJ2Aemh pic.twitter.com/gbULACWk9B

— /Film (@slashfilm) January 28, 2016
I'm not sure why they didn't decide to call the movie Space Dog and give Gary his own special little emoji in the logo. But since he gets to be on the set of Star Wars: Episode VIII and even attended the premiere of The Force Awakens, it's safe to say that dog is leading a pretty sweet life in a galaxy far, far away already.