LOL: 'Deadpool' Responds To 'Saturday Night Live' Petition By Spoofing Kanye West Rant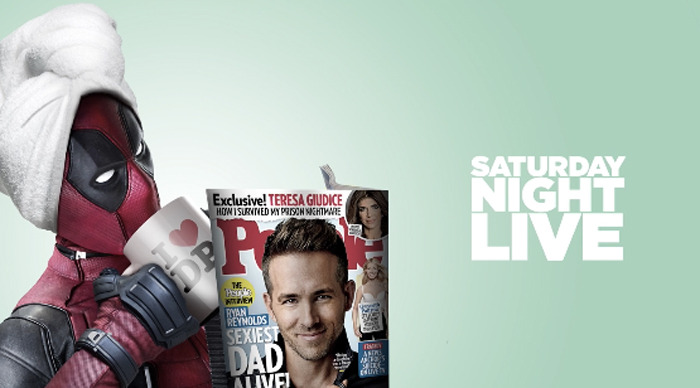 Earlier this week, thousands of fans signed a petition directed at Saturday Night Live creator and executive producer Lorne Michaels to have him bring in Ryan Reynolds to host the late night sketch show. However, these fans didn't want Reynolds to host the show as himself as is customary for celebrities to do. Instead, they wanted Reynolds to host SNL as Deadpool, the box office topping, fourth wall breaking, smart ass mercenary.
Even though Lorne Michaels hasn't responded to this petition, and he probably never will, Ryan Reynolds took the time to craft a response to this request by Deadpool fans. But he did it in exactly the kind of way that Deadpool would: by spoofing the timely leak of yet another rant that Kanye West went on backstage at Saturday Night Live when he was a musical guest last weekend.
Here's the leaked audio of the rant from when we almost saw Deadpool hosting SNL in the 90s:
Actually DEADPOOL was going to host back in the 90s, but then this happened. Thank god Tom Hanks was available.https://t.co/7pyPEMysdY

— Ryan Reynolds (@VancityReynolds) February 20, 2016
As we mentioned, this riff from Reynolds as Deadpool is making fun of a recent rant that Kanye West went on. Apparently some changes were made to his stage set-up very shortly before he was going to perform on the live broadcast of the show, and he was not happy at all. And thus, he went on a rant talking about how influential he is, slamming Taylor Swift (hence the Rip Taylor joke) and more. You can hear West's original rant over here if you're curious.
Does this kind of response potentially mean that Deadpool hosting Saturday Night Live may be a possibility? Probably not. Even though SNL has been hosted by fictional characters before, including Paul Reubens as Pee Wee Herman and Don Novello as Father Guido Sarducci, the character of Deadpool still poses some logistical problems. Talking through that mask would be pretty difficult, and Deadpool is a very raunchy character, which doesn't work well on broadcast TV, even in a more forgiving late night slot. So while it would be fun, it's not likely to happen.
However, that doesn't mean Ryan Reynolds can't come back and host as himself, making it likely that Deadpool would appear in a sketch or two throughout the night. Plus, if Reynolds comes back and hosts, there's a better chance of mocking his other poor decisions like Green Lantern.
As of now, the next episode of Saturday Night Live will be hosted by Jonah Hill on March 5th, which means by the time Ryan Reynolds would host SNL, the buzz on Deadpool will have died down considerably. But Reynolds is the kind of star who could really host at anytime and still make it a fun episode. If SNL makes any decisions about this possibility, we'll be sure to let you know.