Star Wars Bits: An Alderaan LEGO Set, The Original 'Star Wars' Gets A Fan Restoration, And The 2016 Fan Film Awards Begin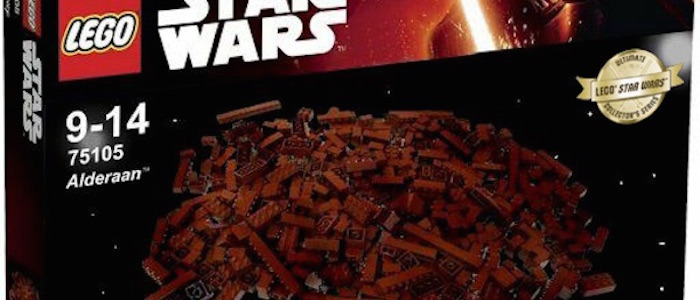 In today's edition of Star Wars Bits:
That LEGO set for Alderaan looks just about right.
Fans restore the original Star Wars and it looks stunning.
Peter Mayhew shares more pages from his original Star Wars screenplay.
Artist Dan Mumford reveals very cool new The Empire Strikes Back art.
The 2016 Star Wars Fan Film Awards are now open for submissions.
The first trailer for LEGO Star Wars: The Freemaker Adventures is here.
Lucasfilm is currently hiring, so get on that.
And more!
If you enjoyed the image at the top of today's Star Wars Bits, make sure you pay Jedi News a little love for initially sharing it on their Instagram.
A week ago, Movie Mezzanine published an in-depth article chronicling a group of dedicated fans who set out to restore Star Wars to its original, non-special edition glory by meticulously scanning and cleaning up an old 35mm print. It's a terrific read if you care about good things. Now, a few video examples of their stunning work have begun to arrive online and they are astounding. The video above compares their work to the battered film print they were working with the the video below compares their work to the Blu-ray release, which messed with the original film's colors. As "Team Negative One" explains:
The official Star Wars Blu-ray was sourced from the original negative, while Team Negative One's was sourced from a theatrical 35mm print, several generations away from that negative, so it is more grainy and not nearly so sharp. However, the colors are much more natural than the overly saturated levels artificially applied to the Blu-ray in an attempt to make it "fit in" more with the look of the Prequel trilogy.
Until Lucasfilm is willing or able to release a proper restored version of the original trilogy, we'll have to rely on talented fans like this to keep the Star Wars legacy alive. It's a thankless task for which I am very thankful.
Making Star Wars has a very cool post about the "FEM7" armor kit, a unique set of Stormtrooper armor specifically designed for women. If you're not just going to pull the trigger and attend your next Comic-Con in full Captain Phasma regalia, this will certainly do.
#chewscript 002 Lol, "a flurry of electronic swearing"... Can't you just see Kenny doing it? Love it. @starwars pic.twitter.com/U9bzmXS3tV

— Peter Mayhew Foundation (@TheWookieeRoars) February 19, 2016
Peter Mayhew, otherwise known as the man in the Chewbacca suit since 1977, has been sharing pages from his original screenplay for Star Wars on Twitter. And it's a real treat: this screenplay is from back when the film had a different title ("The Journal of the Whills") and a few character names had yet to be decided (Luke Starkiller, anyone?). The sharing of this script will supposedly climax with some kind of big announcement, so stay tuned. In the meantime, enjoy these pages and picking apart what made it to the final film and what got changed.
#chewscript 003 Here's a treat with a scene that ended up on the cutting room floor. @starwars pic.twitter.com/YU8WQK5k3C

— Peter Mayhew Foundation (@TheWookieeRoars) February 20, 2016
#chewscript 004 It's wonderful seeing how far we've come in 40 years.. @HamillHimself @TheWookieeRoars pic.twitter.com/on0v0mbGNs

— Peter Mayhew Foundation (@TheWookieeRoars) February 20, 2016
Artist Dan Mumford has revealed a new piece of art titled "Never Tell Me the Odds" that offers a unique view of an iconic scene from The Empire Strikes Back. You can buy an 18" x 24" print right now from Dark Ink in both its original form and a variant for $50 a pop. Preview both options in the gallery below:
The Star Wars Fan Film Awards are back and StarWars.com is taking submissions right now. If you aren't familiar with this contest, you can let J.J. Abrams explain it to you in the video above or you can read the official description below. In either case, good luck to all who chose to enter!
In the Star Wars Fan Film Awards, fans create their own short films based on the stories and characters of a galaxy far, far away. Genres, tones, techniques, and styles are up to the imaginations of the entrants.
After a three-year hiatus, the Star Wars Fan Film Awards finally returned last year. The talent and inventiveness shown was impressive — most impressive — with films ranging from stop-motion comedies to live-action dramas. See some of the best videos below and stay tuned for more information on next year's awards!
Sometimes, the key to being a Star Wars fan is to recognize that now everything with Star Wars in the title is for you. The new trailer for LEGO Star Wars: The Freemaker Adventures makes it clear that this is a children's show through and through and that's totally okay. The new Disney XD series, which is set to premiere this summer, follows a scavenger family as they explore the galaxy and occasionally butt heads with Imperial villains as they seek out a legendary weapon. It looks broad and simple and silly. It will certainly appeal to the young kids in your life. Don't worry – you'll still have all of the new movies and even Star Wars Rebels. Let the younger set have this one.
Back when the original Star Wars expanded universe was a thing, there were a different kind of Stormtroopers known as Shadow Troopers, who wore black armor and had personal cloaking devices. Although much of their history has been wiped out of the new canon, Star Wars Minute has dedicated an episode to exploring where they came from and their status as a Star Wars "legend."

Do you love Star Wars? Are you a working professional willing to relocate to the Bay Area? Well, Lucasfilm is currently hiring, so this is your big chance! From their recruiting page:
We're in the business of telling great stories and making magic. We produce really cool films, video games, television programming, and ultimate theme park ride experiences. We create amazing visual effects and sound design. We market, distribute and license our products and services around the world. We're constantly striving to push the envelope and work with the best talent in the industry.
The Lucas companies include Lucasfilm, Lucasfilm Animation, Industrial Light & Magic, Skywalker Sound, and ILMxLab. Lucasfilm and Lucasfilm Animation are located in San Francisco's historic Presidio National Park. Industrial Light & Magic has Studios in San Francisco (also in the Presidio), Singapore, Vancouver, and London. ILMxLab was recently announced and will be initially based at LDAC in San Francisco. Skywalker Sound is located just north of San Francisco in the hills of Marin County.
Hit that link above if you want to know more.