New Star Wars Fireworks And Stage Shows Coming To Walt Disney World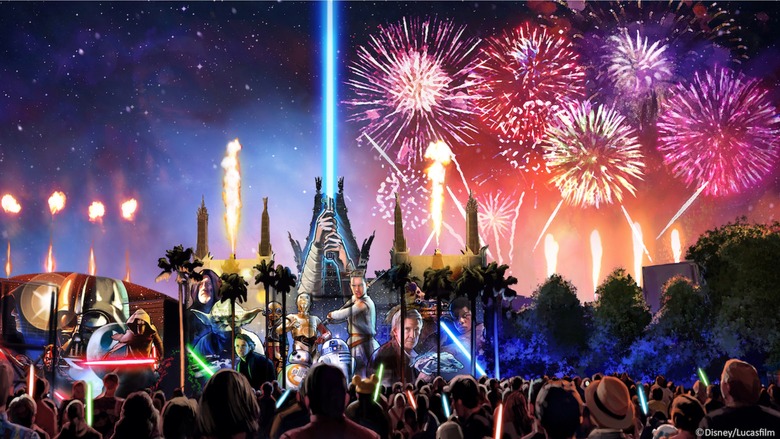 The opening of Star Wars Land is still few years away, but Disney is trying to stoke the excitement by introducing new Star Wars experiences into the domestic theme parks. To promote Star Wars: The Force Awakens, they added a segment to Star Tours and introduced Star Wars Launch Bay into Hollywood Studios in Florida and Disneyland in Anaheim, each with exhibits, shops, meet and greets with Darth Vader, Chewbacca and Kylo Ren, and more. Over at Anaheim we also got a redesign of Space Mountain called Hyperspace Mountain, while Orlando got a Star Wars-themed firework show called "Symphony in the Stars: A Galactic Spectacular."
Well, it seems like that was just the beginning. We've already heard that Captain Phasma will soon join Kylo Ren and the First Order in Disney parks, and now the company has announced that they will also introduce a new stage show called "Star Wars: A Galaxy Far, Far Away" beginning on April 4th 2016 and a night-time fireswork spectacular called "Star Wars: A Galactic Spectacular" this summer. Find out more information on the new Star Wars fireworks show after the jump.
Disney describes the new stage show as "epic." The show, coming to Orlando's Hollywood Studios, will "play out iconic moments from the film saga on Center Stage (in front of the Chinese Theater), and will feature appearances from Star Wars characters like Kylo Ren, Chewbacca, Darth Vader and Darth Maul."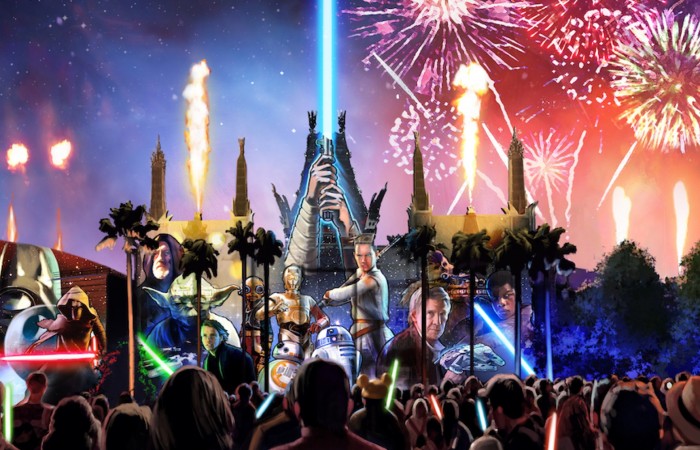 Also coming in summer 2016 will be a new night-time fireworks spectacular called "Star Wars: A Galactic Spectacular."
This new nightly show is the next generation of the current Star Wars-inspired fireworks show. The show will combine fireworks, pyrotechnics, special effects and video projections that will turn the nearby Chinese Theater and other buildings into the twin suns of Tatooine, a field of battle droids, the trench of the Death Star, Starkiller Base and other Star Wars destinations. The show will be punctuated with a tower of fire and spotlight beams, creating massive lightsabers in the sky. This new show will be the most elaborate fireworks display to take place in the history of Disney's Hollywood Studios.
It looks like California gets left out of this one, just as Florida didn't get Hyperspace Mountain. The projections on buildings look to be a take on the recently introduced street-to-sky show that is Disneyland Forever at Disneyland park. As much as I love the Disneyland Forever fireworks show, I wish California was getting this new Star Wars fireworks show. How cool does that lightsaber coming out of the Chinese theatre look in the concept art?
Disney has also confirmed the earlier rumors that also beginning April 4th, Captain Phasma will begin leading a platoon of First Order stormtroopers on a march from Star Wars Launch Bay to Center Stage multiple times each day.